Following his appearance at Coachella, Jungkook reacted and addressed the BTS ARMY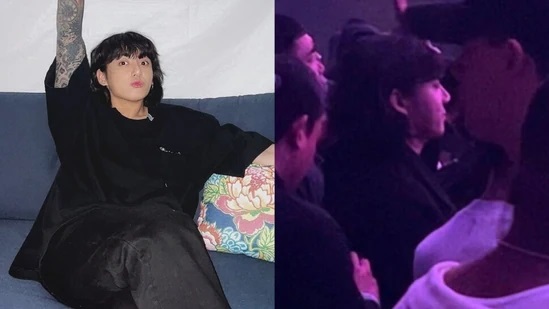 Fans caught sight of BTS Jungkook at the Coachella music event. In response, he posted a statement on Weverse.
Jungkook, the youngest member of BTS, has shared a message for his fans after many of them spotted him at the recent Coachella music festival. Taking to Twitter on Sunday, BTS ARMY shared several pictures and videos of the singer.
Jungkook's Weverse post
Taking to Weverse after that, Jungkook shared a picture of himself. In the photo, Jungkook sat on a couch pouting and making a victory sign with his fingers. The singer was seen in a black T-shirt and matching pants. He also cut his bangs short in the new photo.
As translated by Twitter user @BTStranslation_, Jungkook wrote on Weverse, "Man, I intended to visit Coachella quietly but (people) recognized me right away…ARMYs are incredible … thank you … love you … how did you recognize me, I even trimmed my bangs …(I took this pic in a hurry to show armys, it would be nice if you would recognize that). (This is how) it feels to be a celebrity, feels nice for no reason) heh…"
Fan's reaction to Jungkook's appearance in Coachella
Taking to Twitter, a fan said, "Jungkook wanted to enjoy Coachella quietly with privacy, even by cutting his bangs… but since people found out and amplified it, he's taking it in stride with optimism just being in awe of their identifying skills. He is so good-natured but I hope he does have breather moments too."
Another person wrote, "I am having many mixed feelings right now but Jungkook makes me the happiest ever. He is too pure for this world. He deserves every good thing and more and peace and safety forever." A comment read, "You are so sweet with words I hope you enjoyed there."
In a video, shared on Twitter, Jungkook was seen posing with a young girl at the event. After clicking the picture, he waved at her and also smiled. The BTS singer was seen sipping a beverage and laughing. In the clip, Jungkook wore a black outfit. In another video, he was seen grooving and nodding his head as he watched a performance.
Jungkook travelled to US for "exclusive" song recording
Recently, Jungkook travelled to the US from Seoul. Several videos and pictures showed the singer recording a song. At the studio, he posed for pictures with Scott 'Scooter' Braun, Bang Si-Hyuk, Andrew Watt and others.
Disclaimer: Except the headline and synopsis, this story has been taken from the HT News Service