John Legend talks about being a father and spending time with his children while playing his music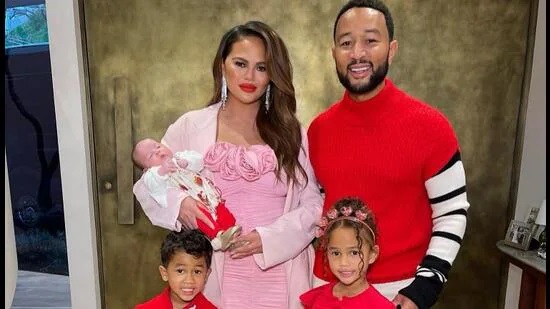 John Legend adores being a father and spending time with his children while playing music, particularly on the way to school. Along with challenging himself with each song, he uses music to communicate his emotions. Beyond music, he is committed to fostering important dialogue, emphasising American politics, and putting money into building safer and healthier communities.
Grammy-winning singer John Legend loves being a father, especially the moments when he can share his music with him. He says he is really excited when they request him to play his songs while on the way to drop them to school.
The 44-year-old continues, "I get to play a lot of the music for them and see what their thoughts are and what they are excited about. It is really something great that we share together, especially on the way to school every day. When we are going to the school, they will request songs for me to play. A lot of them are from my own album, so it's always interesting to know which songs they like and to really connect with them via music".
John Legend shares his relation with his children
The All of Me singer welcomed his third child, Etsi earlier this year. The baby comes two years after the couple lost their son Jack in October 2020.
Here, Legend admits that music has been an outlet for his emotions, be it happy moments or sad parts.
Legend recently performed in India as part of Walkers and Co Tour
"Music is a great way of expressing all the things you're going through, whether it's joy, romance, love, challenges and heartbreak that you feel. Music is such a great way of expressing it. I love expressing myself through music. For people who don't write music, but enjoy music, and listen to music, music helps set the mood for whatever they are looking for. Sometimes you're going through a tough time and you want music that will lift you up, sometimes you want music that will kind of let you live in that tough time and be reflective. Music is really powerful and beautiful and transcendent in that way," says the singer, who recently performed in Mumbai and Delhi as part of Walkers and Co Tour.
He shares that he challenges himself with every song. "Every time, I write a song, I want it to be my best song, I want every new album to be my best album. If I go into it with that attitude that I don't take anything for granted, and that I work really hard to try to make it my best work, then hopefully I'll keep making music that I'm proud of," he says.
In the world beyond music, he is passionate about pushing conversation which matters at the moment.
"I focus a lot more on American politics, just because I understand what's going on more. I am well read about what's happening at home. When I think about what's happening at home, I think a lot about justice and freedom and, and I have an organisation which is all about rethinking the way we invest our resources, investing in healthier and safer communities… I would love for us to live in peace together, where we respect our neighbours and live in peace," he ends.
Disclaimer: Except the headline and synopsis, this story has been taken from the HT News Service