Before enlisting in the military, BTS' J-Hope posts a picture in buzzcut for BTS ARMY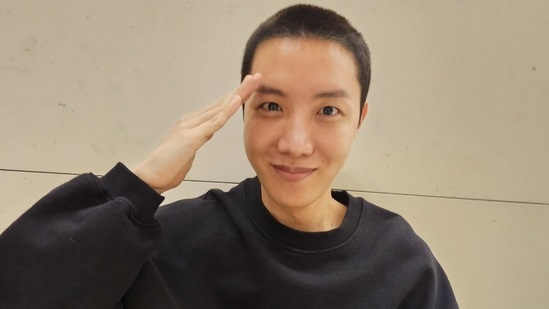 Before J-Hope reports for duty, BTS members RM, Jin, Suga, J-Hope, Jimin, V, and Jungkook might be together again.
BTS member J-Hope is all set to enlist in the mandatory military training soon, and he and his agency Big Hit Music have kept their lips sealed about the enlistment day. Amid this, member Jin might have spilled the tea on their online fan community, Weverse. Their fellow group member Jungkook also returned to Seoul just right in time to meet J-Hope before he leaves for his 18-months of service.
Jin's Weverse post
Taking to Weverse, Jin dropped hints about his homecoming too. He shared a cryptic update and almost confirmed that J-Hope is enlisting on Tuesday. He responded to a post shared by J-Hope, which was meant for Jimin and commented, "kekekekekeke D-1" with a heart emoji.
Meanwhile, J-Hope shared photos of himself in a buzz cut ahead of his enlistment.
It is still not clear if the BTS members RM, Jin, Suga, J-Hope, Jimin, V and Jungkook, will reunite one more time before J-Hope joins the army. Jin is the eldest member and the first one among them to enlist for military service. His farewell had all of them in attendance which took place amid tight security.
J-Hope held his last Weverse live on Saturday
J-Hope held his last live session on Saturday to speak with his fans. During the session, he recalled his recent conversation with Jin and said, "Recently Jin hyung called me, he was like, 'How are you feeling?' So I was like, 'What do you think I feel like, what does it seem like I feel?' I also wondered what I should pack and take with me so I asked him about stuff like this. What kind of bag should I take, etc."
The rapper also told fans, "Please don't be too upset, since I'm doing my duty as the healthy youth. So what I wanted to tell is to you guys to not worry and I'll go and come back well. 'Please eat well'. Yes of course, as I told you guys, don't worry, I've been eating really well." J-Hope also read a comment during the live session, which read, "October 17, 2024—Hobi's discharge date, I'll be waiting for this day only." He smiled and said, "October 17, right. I'll be back safely."
Disclaimer: Except the headline and synopsis, this story has been taken from the HT News Service