Salma Hayek Discloses Her Youthful Secret, and its not Botox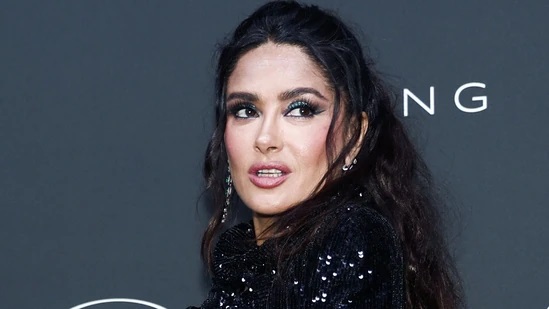 In a recent interview, 56-year-old Salma Hayek disclosed that she has never undergone Botox injections. Instead, she relies on a distinctive meditation technique to maintain her youthful appearance.
Salma Hayek has never had Botox injections, and she has a surprising reason why.
Salma shared secret to her beauty
The Magic Mike's Last Dance star, 56, opened up about her beauty and aging secrets on the "Let's Talk Off Camera" podcast, hosted by Kelly Ripa, on Wednesday.
When Ripa, 52, asked her if she ever used Botox, Hayek was quick to say no.
"No Botox!" the Oscar-nominated actress said.
Ripa, who co-hosts Live with Kelly and Mark, praised Hayek for her amazing looks. "You're incredible," she said.
Hayek then shared what she does instead of Botox to keep her face youthful and radiant.
"I know what it is," she said.
"I have a lot of health issues and things in my body, and I developed this weird meditation that I keep changing. I can do it for hours because time doesn't matter to me, and it's so fun."
More about meditation technique
The "Frida" actress' meditation technique is not the typical one that involves relaxing music or silence. "It's actually feeling the energy," she said. "It moves and it dances inside of you, different sensations and emotions. So I use a lot of the frequency machines."
Hayek claimed that her meditation works wonders for her appearance. "Sometimes when I'm doing it, people tell me when I come out of the room, 'Oh my god. You look 20 again,'" she said.
The 56-year-old also warned that if she stopped meditating, her face would suffer. "When I don't do it for a while, guess what?" she said. "The face starts to drop and everything starts to drop."
Hayek's husband is not a fan of Hayek's meditation
However, Hayek's husband, François-Henri Pinault, is not a fan of her meditation practice. "My husband doesn't believe in it," Hayek said. "But when it's really bad… he'll go, 'Have you been doing your yoga?' He won't even call it that." Hayek has also shared other beauty tips, such as using mascara to cover her gray hairs on Good Morning America. "You don't see the white hair right now because I put mascara [on]," Hayek said.
"Because I'm too lazy to dye my hair, so I go like this and then I go like this," she demonstrated, applying mascara to her eyelashes and her hair around her face. Hayek is not shy about flaunting her body either. In June, the actress posted a photo of herself in a sauna wearing only towels. "Embracing the healing power of the sauna and sweating out the stress this #WorldWellbeingWeek," she wrote on Instagram.
Disclaimer: Except for the headline and synopsis, this story has been taken from the HT News Service