Elon Musk shares image of TikTok browsing during Oppenheimer show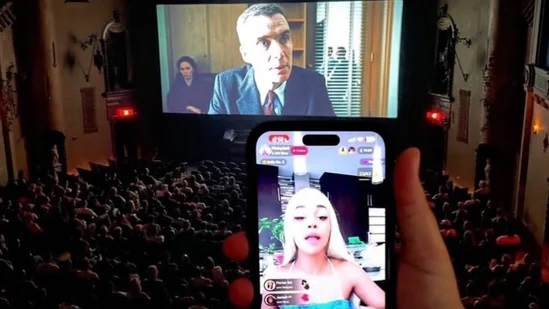 Elon Musk, the owner of Twitter and founder of Tesla, tweeted a photo of a viewer watching a TikTok video during a screening of Christopher Nolan's latest film, Oppenheimer.
Has Twitter owner and Tesla founder Elon Musk watched Christopher Nolan's Oppenheimer? One can't be sure how much he has watched the film, given the picture he posted on Sunday.
Elon laments about Oppenheimer's screen time
Elon Musk took to Twitter on Sunday to post a picture of someone surfing TikTok on his phone while watching Oppenheimer in a packed cinema hall. The caption along with the picture reads, "This Oppenheimer movie is way too long." The runtime of Oppenheimer is 3 hours.
The picture posted by Elon seems to be the original post of another Twitter user, who goes by the handle @ericzhu105, that Elon has cropped and shared on his own timeline along with the caption. Eric Zhu retweeted Elon's photo and wrote, "Bro robbed me out of ad revenue."
A Twitter user commented on Elon's post, "Who gets the money from the ads on this tweet? you or the original tweeter?" Eric Zhu, the original tweeter, replied to this and wrote, "Cant even get money for tweets cuz not 18 yet."
Rishi Sunak watched Barbie on Saturday
United Kingdom Prime Minister Rishi Sunak took to his social media on Saturday to reveal what he's watching first in the Barbenheimer week. He shared a picture with his family, wife Akshara Murthy and daughters Krishna and Anoushka, from a multiplex. Rishi is in a grey sweater and holding movie tickets in his hand. His family is wearing pink, making it amply clear which movie they're heading into first.
Rishi captioned the post as, "The family vote was only ever going one way…Barbie first it is #barbenheimer."
About Oppenheimer
Nolan's epic biopic about J. Robert Oppenheimer, father of the atomic bomb, has been getting amazing reviews, as the movie is "Certified Fresh" on Rotten Tomatoes with a score of 92% (as of July 20). WTW's Oppenheimer review joins in that acclaim, as we call the movie Nolan's "magnum opus."
Oppenheimer is a dramatic biopic about J. Robert Oppenheimer, director of the United States' Manhattan Project (development of the first atomic bomb). Here's the official plot synopsis from Universal:
[Oppenheimer] explores how one man's brilliance, hubris, and relentless drive changed the nature of war forever, led to the deaths of hundreds of thousands of people, and unleashed mass hysteria. The story of J. Robert Oppenheimer's role in the development of the atomic bomb during World War II.
Disclaimer: Except for the headline and synopsis, this story has been taken from the HT News Service