Celebs embrace monsoon with chai-pakora and scenic drives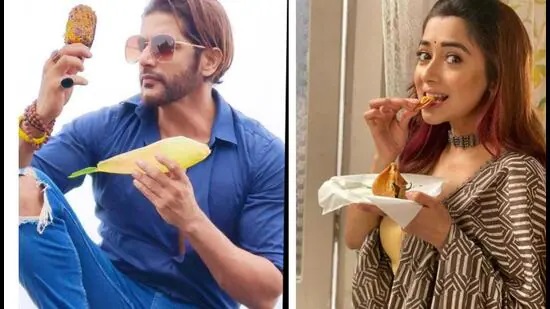 Karanvir Bohra, Saumya Tandon, Tina Datta, Sudhanshu Pandey and Shrenu Parikh share what they love most about this season.
Monsoons bring a change not just in the weather and temperature but also affects the moods of people. Many love rain and make the most of it. From going trekking, to getting drenched in the rains to gorging on chai pakoras and more. We talk to some celebs about what they feel about the monsoons and why.
Saumya Tandon
I don't usually like to drive as I get irritated with the traffic and the harsh sun bothers me as well. But in the monsoon, driving is fun. Maharashtra is so green and beautiful, and there are so many places to visit in and around Mumbai. I take short trips to Lonavala, Karjat, Nashik and Mahabaleshwar. We stop on the way to nibble on fried snacks!
Sudhanshu Pandey
The sound of pouring rain is so meditative. I love the energy the monsoon brings. I love to stand and admire the greenery in the surroundings along with a nice cup of coffee as it rains. I feel the vibes that you get from the trees and plants also changes along with the atmosphere. It is very serene.
Karanvir Bohra
I love the monsoon and getting drenched in the rain. Pehli baarish mein bheegna hi hai, it's a must! The one thing I always do during rains is gorge on butta. Swaad hi alag hota hai. My wife (actor) Teejay Sidhu and I also love visiting the hill stations like Matheran, Lonavala and Karjat. I have a farmhouse in Karjat and during monsoon, we often spend time there, enjoy the view and the weather.
Tina Datta
I love gorging on bhajiayas, samosas and vada pav in the monsoon! Yes, you can eat them anytime of the year but they are best paired with the rains. I love relishing these delicacies with a hot cup of chai, while watching the rains lash at my window.
Shrenu Parikh
Often, I am shooting during monsoon and the one thing I enjoy is the car ride to my set everyday as the weather is fabulous and everything looks so vibrant. Moreover, during in the rains, it's not easy to shoot but my crew and I find little joys whilst we are on set.
Disclaimer: Except for the headline and synopsis, this story has been taken from the HT News Service