Jimin reacts to receiving Ken's guitar from Ryan Gosling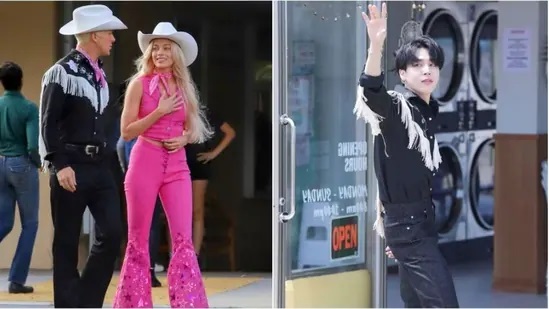 Jimin donned a black shirt adorned with tassel fringes and floral embroidery in the "Permission To Dance" music video. Interestingly, Ryan Gosling also wore the same shirt as Ken in Greta Gerwig's "Barbie" film.
Jimin has responded after actor Ryan Gosling wore an outfit in Barbie similar to what the BTS singer wore in his Permission To Dance music video. The BTS singer also reacted after he received Ken's guitar that Ryan sent him recently.
Jimin's message for Ryan
Taking to Instagram on Monday night, Jimin posted a video as he sat on a bench outdoors with the guitar on his lap. In the clip, he wore a white and black striped full-sleeve T-shirt, grey pants and shoes.
In the clip, Jimin said, "Hi Ryan and hi Ken, it's Jimin. Congrats on your big release. My fans are excited to see your video so thank you so much. I could see that you look great in my outfit. Thank you for this guitar. I really love it. And I look forward to watching it, go Barbie."
Jimin posed with Ken's guitar
The video ended with Jimin strumming a tune on the guitar and waving at the camera. Sharing the clip, Jimin wrote, "Thanks for having my outfit in #BarbieTheMovie! You rocked it, Ken (guitar emoji)."
Netizen's reaction
Fans took to Twitter to share their excitement. A person wrote, "Both Ryan and Jimin are so amazing to do this. Much love." A tweet read, "They actually sent him the guitar and Jimin got it I am screaming." "Not to sound insane but I started tearing up the moment I saw Jimin's feet slowly tapping away," said a Twitter user. "OMG! Jimin got Ken's guitar and replied to Ryan Gosling's message! He's so precious," commented a fan. "Jimin received the guitar omg," said another person.
Ryan and Jimin wore the same cowboy outfit
Ryan Gosling plays the role of Ken in Greta Gerwig's Barbie. In a scene in the film, Ken sports a black cowboy outfit. He is seen in a black shirt with white tassel fringes, and white floral embroidery. It is the same shirt that Jimin opted for in the PTD music video. Both Jimin and Ryan paired the shirt with black pants.
Ryan's much viral clip
Last week, Ryan in a clip said that Jimin wore it first and also praised him for the look. He even gifted him Ken's guitar. On the official Twitter account of the Barbie Movie, a video featuring Ryan was posted. Ryan said in the clip, "Hi Jimin, it's Ryan Gosling here. I noticed that your Permission To Dance outfit was the same as my Ken outfit in the upcoming movie Barbie."
Ryan also said, "I have to give it to you – you wore it first, definitely wore it best. And there's an unspoken Ken code that if you copy another Ken's style, you have to give them your most prized possession. I hope you will accept Ken's guitar as my humble offering. Besides, Ken doesn't really play anyway. It will be much better in your hands." The caption read, "Had to give Jimin this [guitar] for his KEN-RGY!"
Disclaimer: Except for the headline and synopsis, this story has been taken from the HT News Service