At the age of 53, Naomi Campbell joyfully announces the arrival of her second child, a baby boy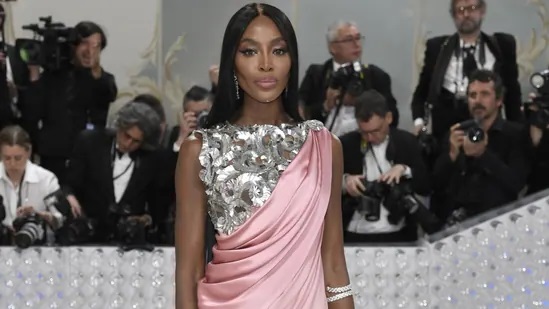 Supermodel Naomi Campbell, who became a mother for the first time at the age of 50 in 2021, shared the news of welcoming her second child on June 29. This time, she happily welcomed a baby boy.
Congratulations are in order for supermodel and TV personality Naomi Campbell, who was blessed with another baby. She announced that she's welcomed her second child, a baby boy. On Thursday, Naomi, 53, revealed that she became a mother again, adding it was 'never too late' to become a mom. Naomi called her baby boy a 'true gift from God' as she announced his arrival via an Instagram post. She had welcomed a daughter in May 2021 at the age of 50. She hadn't revealed whether she carried the child or used a surrogate.
Baby announcement on social media
The model, who was seen in the American TV series The Face, shared the news of her son's birth alongside a photo in which she held him in her arms while holding his tiny hand. Her two-year-old daughter reached over and held her hand too in the adorable family picture. They were all dressed in white.
Naomi wrote in her caption, "My little darling, know that you are cherished beyond measure and surrounded by love from the moment you graced us with your presence. A true gift from God (folded hands emoji), blessed! Welcome baby boy (heart emojis)… It's never too late to become a mother." She added the hashtag 'mum of two' to her caption.
Netizen's reactions
Fashion designer Marc Jacobs commented on her post, "Oh my! Already? I can't believe a second blessing. How amazing!!" Model Ashley Graham wrote, "Congratulations mama!!!!!!! Welcome baby boy!" Singer Kelly Rowland wrote, "NAOMI!!! Congratulations!!" Actor Zoe Saldana commented, "Oh my goodness! Welcome!! Blessings upon blessings!"
Fans also showered love on the new mom and her children. One commented on her post, "Naomi having a baby at 53 is proof that it's never too late to have kids." One more wrote, "Love and blessings to your sweet family." A person also said, "Never too late… if you can afford surrogacy…"
Naomi Campbell welcomed her first child in 2021
Back in May 2021, Naomi Campbell revealed that she welcomed her first child in a since-deleted Instagram announcement. "A beautiful little blessing has chosen me to be her mother," she captioned a photo of her holding her baby girl's feet. She had added, "So honoured to have this gentle soul in my life there are no words to describe the lifelong bond that I now share with you my angel. There is no greater love."
Naomi has not yet revealed her daughter's name. Her then-nine-month-old daughter had made her public debut with her mom on the cover of British Vogue for its March 2022 issue.
The model had previously opened up about her desire to start a family, when she spoke to Vogue Arabia in 2018. "I'd love to have kids," she had said at the time, adding, "I don't discount anything in life. I love kids and always will. When I'm around children, I become a child myself. That's the little girl I don't ever want to lose."
Disclaimer: Except the headline and synopsis, this story has been taken from the HT News Service