Twins bring joy to Gautam Rode and Pankhuri Awasthy as they are blessed with parenthood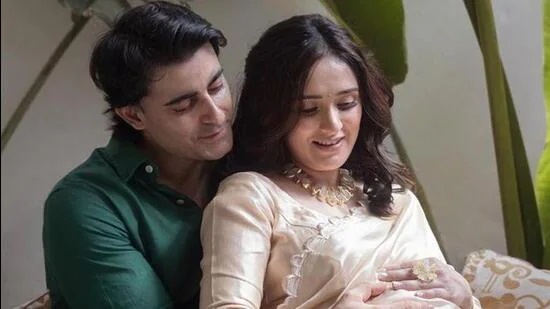 Actor Gautam Rode shares the wonderful news of being blessed with twins – a baby boy and a baby girl – alongside his wife, Pankhuri Awasthy.
Actor couple Gautam Rode and Pankhuri Awasthy are enjoying this moment of sheer joy and bliss, as they have been blessed with twins — a boy and a girl. "It is a different feeling when you see your babies being born in front of you," says an elated Gautam, who shared the news of the arrival of his little ones with fans on Instagram.
"I was present inside the Operation Theatre during the delivery, and witnessed the moment when my babies took their first breaths. First, the girl came out, and then about a minute later, the boy was born. So, she's the elder sister," he adds.
Gautam's statement on birth of twins
The 45-year-old informs that Pankhuri underwent a C-section for the delivery and both the mother and babies are in good health. "She is expected to be discharged in four to five days," he shares, adding that they have thought of a few names for the babies, "But, we have not zeroed down on any names yet. We will do that soon."
With parenthood comes a profound shift in perspective and priorities, and Gautam is fully aware of the new responsibilities that await him. "Priorities will definitely be the kids and Pankhuri, always. Perspective towards life has also already changed," he says. Reflecting on the anxious moments during Pankhuri's pregnancy, the actor shares, "In the seventh month, she got false contractions, so that time was scary for us because we thought premature babies na hojaayen. But, she stretched it to 38 weeks, so that's God's blessing, and our kids are strong Our wish of having a boy and a girl has been fulfilled."
The actor, known for shows such as Baa Bahoo Aur Baby, Saraswatichandra, and Kaal Bhairav Rahasya 2, says that they are lucky to have sufficient help at home from both the families. "Both my and Pankhuri's mothers are around, and we have additional help as well. I am grateful for all the support we've received. Pankhuri is the constant force behind it all because she has to feed two kids," he wraps up.
Disclaimer: Except for the headline and synopsis, this story has been taken from the HT News Service