Justin Trudeau Enjoys "Oppenheimer" Alongside Daughter After Treating Son to Barbie Show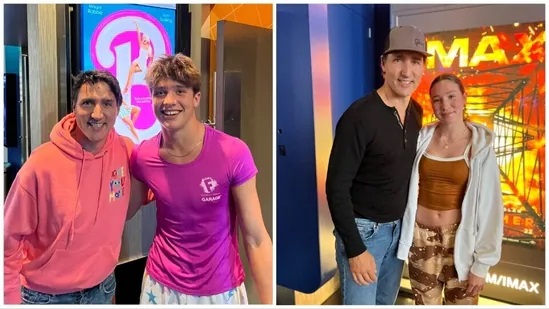 Justin Trudeau Shares "Oppenheimer" Moment with Daughter Ella; Film's Worldwide Box Office Surpasses $500 Million.
Canadian Prime Minister Justin Trudeau's Barbenheimer is complete. On Tuesday, he took his daughter Ella to a screening of Christopher Nolan's Oppenheimer after watching Greta Gerwig's Barbie with his son Xavier this weekend. His picture with Xavier at the Barbie screening had gone viral.
Oppenheimer with Trudeau's daughter
On Wednesday, Trudeau shared a picture with Ella from the screening. He was seen in a casual look, wearing a black shirt with blue jeans and a cap. Ella channelled perfect GenZ fashion in her brown tank top, camo brown pants and a white hoodie. Sharing the photo, Trudeau wrote, "Balancing things out: Oppenheimer with Ella."
The Canadian PM got a lot of replies to his post. A person wrote, "LOL nice. You seem like a good dad." Another joked, "Little mermaid with Macron next?" A person liked Trudeau's movie choice, "Forget Barbie, this is the film every politician needs to see! We must learn from our past to better our future!"
Barbie with Trudeau's Son
Trudeau and his son Xavier turned up in pink outfits for Barbie screening. "We're team Barbie," he wrote with his post that got 140,000 likes on Twitter.
Trudeau pled Taylor not to skin Canada
Singer Taylor Swift announced last week several Toronto dates for her much-hyped Eras world tour after a plea from Justin Trudeau not to skip Canada.
Concert sponsor Rogers Communications said in a statement that Swift will perform six shows as part of her Eras Tour in Canada's largest city, and that tickets would soon go on sale for the November 2024 dates.
Swift herself also posted on Instagram: "Turns out it's NOT the end of an era." "Miami, New Orleans, Indy and Toronto: The Eras Tour is coming to you in 2024," she said, with a photo listing the Canada stops as November 14-16 and 21-23.
PM announced separation from wife
Recently, Trudeau announced that him and his wife Sophie, are separating after 18 years of marriage.
The two said in statements posted on Instagram that they made the decision after "many meaningful and difficult conversations." A statement from the prime minister's office said they both have signed a legal separation agreement.
The excitement around Oppenheimer vs Barbie
Oppenheimer, based on the life of 'father of atomic bomb' Robert J Oppenheimer, and Brbie, based on the popular doll from Mattel toys, released together on July 21. While Oppenheimer has collected over $500 million at the worldwide box office, Barbie collected $1 billion.
Disclaimer: Except for the headline and synopsis, this story has been taken from the HT News Service