Happy 1st birthday to Raha Kapoor! Let's see what Ranbir Kapoor and Alia Bhatt have said about their daughter.
Ranbir Kapoor and Alia Bhatt have often raved about parenthood in interviews. Alia has also spoken about their daughter Raha Kapoor on social media. On Monday, Raha celebrated her first birthday. Ever since she was born in Mumbai last year, the celebrity kid has been in news. On her birthday, here's a look back at her first year and what parents Alia and Ranbir said about her.
Alia Bhatt claimed she is not hiding Raha
Alia Bhatt said at the Hindustan Times Leadership Summit that as new parents, she and Ranbir Kapoor aren't sure of Raha's face getting splashed across the internet. The actor opened up about protecting Raha from the media spotlight, saying, "I don't want it to seem like I am hiding my daughter. I am proud of her. If the cameras were not rolling right now, I would put a giant image of her on the screen. I love her. I am proud of our baby. But we are new parents. We don't know how we feel about her face splashed out all over the internet, she's barely a year old."
Ranbir Kapoor's favourite moment with Raha
Speaking with Pinkvilla in March, Ranbir had said that his favourite moment of Raha is the 'first time she smiled'. Talking about what he does before he goes to sleep, Ranbir had said, "Now I kiss my daughter a lot before I sleep…"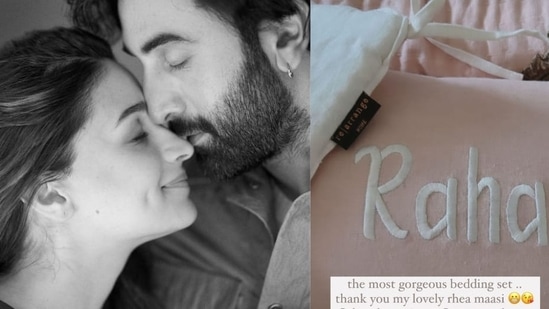 Alia Bhatt says her bag has become Raha's bag
Alia married Ranbir Kapoor last year in April and gave birth to Raha a few months later. In July this year, while promoting her film Rocky Aur Rani Kii Prem Kahaani, Alia Bhatt had said that she's been carrying stuff for her daughter Raha in her bag all the time, including a handkerchief, mittens, a toy and a tiny book.
Alia told Vogue India, "I realised when I was travelling from Mumbai to London, my bag had nothing to do with me. It basically just had my passport. But otherwise it was her pacifier, her napkins, a burp cloth, her mittens, an extra pair of socks, an extra pair of this, a little toy, a little book. And I said, 'Okay, okay, my bag has now become Raha's bag. It's no longer my bag.'"
Raha looks like…?
In March, the actor was a guest on The Kapil Sharma Show, where he spoke about his daughter. When host Kapil Sharma asked Ranbir if there are some family members and close relatives, who say whether Raha looks like him or Alia, the actor joked that yes there are some, but he is thankful that Raha looks like the either of them only and not someone else.
He had said, "We ourselves are confused because sometimes Raha looks like me and sometimes like Alia, but the good thing is that she looks like the both of us only."
Alia Bhatt's daily mails to Raha
Last month, Ranbir had said he plans to write 'extraordinary letters' to daughter Raha. Alia is already writing emails to their daughter Raha every day, Ranbir had said in his interaction with the German pen brand Hauser.
He had said, "Alia is actually writing her an email every day and I thought I would start writing to her someday. I am actually. Now since I am part… so I will write extraordinary letters to her."
Ranbir on Raha meeting cousins Taimur-Jeh
The actor revealed that although Raha is quite young to recognise people, she was starstruck upon meeting Taimur Ali Khan, son of Ranbir's cousin Kareena Kapoor. Ranbir, as per an October 2022 report of The Indian Express, said during a fan interaction on Zoom, "Raha went to Taimur and Jeh's house once. They have come home also. But she's so young, she can't recognise anyone. She is 11 months old. She's barely recognising me now and I must say that I am her favourite, more than mumma (Alia Bhatt) also so, I am very happy about that."
Ranbir also recalled the time, when he met Taimur for the first time, "The first time I met Taimur, I was also very starstruck. I was like 'What a cute baby he is'."
Disclaimer: Except the headline and synopsis, this story has been taken from the HT News Service.