Ranbir Kapoor's cameo amplifies the grandeur of Aryan Khan's directorial debut, Stardom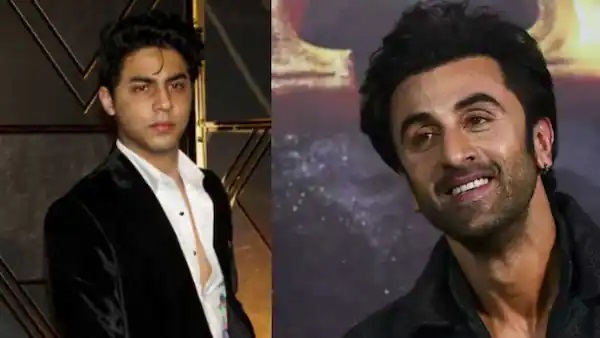 Actor Ranbir Kapoor will make a significant cameo appearance in Shah Rukh Khan's son Aryan Khan's debut.
Aryan Khan is working extremely hard to ensure that his directorial debut show Stardom is well received by audiences and becomes a major success. From the writing to the casting, he put a lot of effort into every part of the project followed by extensive research and pre-production and now he has begun filming the series in Mumbai.
Ranbir Kapoor shot a special cameo for Stardom
Following its announcement and the later disclosure that Lakshya Lalwani had joined the film in a lead role, the new six-part series dubbed Stardom has been in the news always and recently, Ranbir Kapoor, has shot for a special cameo appearance which has raised interest for the series among the audiences who are eager to know that," What massive Aryan Khan is brewing"?
Ranbir Kapoor visited sets to offer encouragement to Aryan
Ranbir Kapoor, who is already friends with Shah Rukh Khan, recently paid a surprise visit to the sets of the series to check on Aryan Khan's progress, and he offer his encouragement to Aryan and shot a cameo for the show. Along with Ranbir Kapoor, the much-awaited OTT series will also explore the history of the Hindi cinema business and will feature various cameos.
In addition to Ranbir Kapoor, Karan Johar has made a guest appearance in Aryan Khan's first television series as a director. Shah Rukh Khan paid a surprise visit to the set on the first day of filming to cheer on his son as he began his career as a director. Suhana Khan, Aryan's sister, is now practicing for her role in Zoya Akhtar's musical film The Archies. Agastya Nanda, Vedang Raina, Mihir Ahuja, and Khushi Kapoor all play major parts in the film. Previously, Aryan had announced on social media that he has completed the writing of his first project, a series that will also be directed and shown by him. The project is expected to go on floors in 2023.
Disclaimer: Except the headline and synopsis, this story has been taken from the HT News Service