Krishna Abhishek wishes a Kabhi Khushi Kabhi Gham reunion with Govinda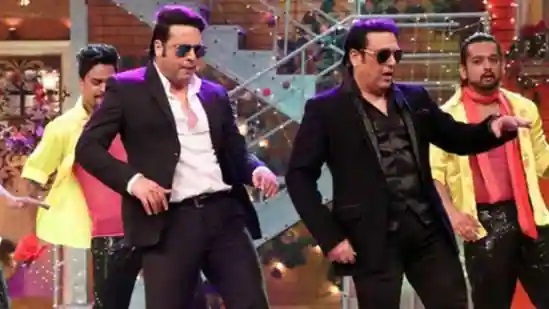 Krushna Abhishek has mentioned that he still wishes to reunite with Uncle Govinda, as Shah Rukh Khan and Jaya Bachchan did in the film Kabhi Khushi Kabhie Gham.
Comedian Krushna Abhishek is yet to have a happy reunion with his maternal uncle Govinda but he is hopeful it will happen one day. Krushna is hopeful he will have a filmy reunion with him like the one Shah Rukh Khan and Jaya Bachchan had in 2001 film Kabhi Khushi Kabhie Gham. Krushna is the son of Govinda's late sister Padma.
Krushna & Govinda 's feud
Krushna and his wife Kashmera Shah have had differences with Govinda and his wife Sunita since long, though they did have brief reunions on occasion. During his stint on The Kapil Sharma Show, Krushna had even skipped episodes which had Govinda as a guest.
Krushna's thoughts on reconciliation
Krushna has once again expressed his wish to reunite with Govinda. He told Indian Express in a new interview, "He is my mama (uncle) and I know sooner or later we will be back together. I always believe that blood is thicker than water and it has the power to reunite us…. I am waiting aisa kuch hojaye (I am waiting for it to happen). Hum kahin na kahin mil jayenge aise (we will meet somewhere) (the way Jaya Bachchan and Shah Rukh Khan had a reunion in Kabhi Khushi Kabhie Gham)."
Talking about one such moment, he said, "Once I was out shopping when the shopkeeper told me that Govinda mama was just there. So I called him and I saw him. Then like in a film scene, I actually ran in slow motion toward him. And then my maami (Govinda's wife Sunita Ahuja) came in that very moment."
Govinda statement about the feud
Several years ago, Kashmera's tweet about 'people who dance for money' had offended Sunita, who thought it was aimed at Govinda. During his appearance on Maniesh Paul's podcast, Govinda had said last year that he has forgiven Krushna for everything.
He had said, "For you and Aarti, you are the kids of my favourite sister. I've got so much love from her. You were not able to get that love, I feel very sad about that. Par main aesa nahi hoon, Kisi Bhi haal mein, ki aapke dukh ka hissa mere kisi bhi vyawahar ke waja se aap k ho, aap bhi nahi hoiyye (But I'm not like that, in any case, don't let my behaviour be the reason of your sadness, you don't either). You're always forgiven. Please relax, no problem with you. May God bless you and all the best. Keep working hard."
Disclaimer: Except the headline and synopsis, this story has been taken from the HT News Service.