Ukrainian President Volodymyr Zelenskyy's request to attend the Oscars is denied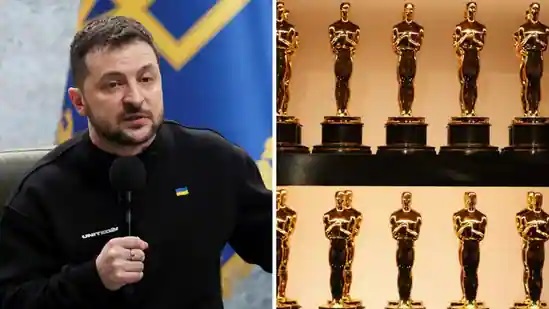 The Academy has rejected the request from Volodymyr Zelenskyy, the president of Ukraine, to electronically address the Oscars in 2023.
For the second time in a row, the Academy have rejected Ukraninan President Volodymyr Zelenskyy from delivering a virtual speech at the Academy Awards ceremony to be held on March 12 at the Dolby Theater in Los Angeles.
President Zelenskyy made appearance in many award ceremonies
The comedian-turned-politician, who was welcomed by other award ceremonies in the past, and following the Russian invasion of Ukraine, Zelenskyy has made a virtual appearance at both the Cannes and Venice film festivals last year and even at the recently held Grammy awards. The Ukrainian president was given a standing ovation when he appeared virtually for the opening gala at the recently concluded Berlin Film Festival. "Cinema is able to overcome borders and walls, whether real or ideological. It seems to me very symbolic. Today, Russia wants to build the same wall… between civilization and tyranny," he said in his virtual address.
The Academy turned down Zelenskyy's request
As per the report by Variety, WME power agent Mike Simpson requested the Academy to include the Ukrainian President in a virtual spot for Sunday's telecast but was turned down. The Academy has also declined to add any further comments on the same. Last year too, The Academy declined to grant the Ukrainian President a virtual spot at the Oscars. According to sources, Oscars Producer Will Packer had expressed his concerns that Hollywood was only providing attention to Ukraine because the states affected by the conflict are white. He argued that Hollywood had previously ignored several wars that involved people of color.
His most recent awards-show appearance was at the 80th Golden Globe Awards in January, where he was introduced by actor Sean Penn. In a virtual message, Zelenskyy had said "It is already clear who will win. There are still battles and tears ahead, but now I can definitely tell you who was the best in the previous year: It was you. The free people of the free world."
The 95th Academy Awards ceremony will be held on Sunday at the Dolby Theatre in Los Angeles, California and will be hosted by Jimmy Kimmel.
Disclaimer: Except the headline and synopsis, this story has been taken from the HT News Service.