Irrfan Khan's collection, Babil Khan has no room for his OTTplay Changemakers award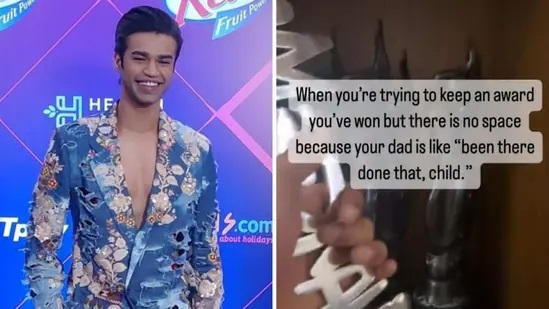 In addition to sharing that there is now no room for him to store his own trophy, Babil Khan offered a brief look of all the awards that his late father, actor Irrfan, had received.
Late actor Irrfan Khan's son, actor Babil Khan won the Rising Star of the Year title at the OTTplay Changemakers Awards 2023 that took place on Sunday evening. The actor, who made his acting debut last year with Qala, took to his Instagram Stories to share how he had no idea where to keep his award on the shelf because his late father had already won so many trophies in his career that there was no space left.
Babil is son of versatile actor, Irrfan Khan
Irrfan, who died after a long illness in 2020, is widely regarded as one of the finest actors in Indian cinema history. In his long, storied career, he won numerous accolades, including a National Award for Paan Singh Tomar and six Filmfare Awards. He was also well known in Hollywood, having worked in several English films such as Life of Pi, The Amazing Spider-Man, Jurassic World, and Inferno. Babil is his elder son.
Babil's Insta story
Babil took to his Instagram Stories to share a small clip from his home where he was seen holding his OTTplay Changemaker award and trying to figure out where to place it. He gave a glimpse of the space on the shelves that were all packed with previous awards won by his later father Irrfan for his movies.
"Nope," said Babil as he paced the room trying to locate a space on the shelf where he could keep his new award. In the caption to this Instagram Story, he wrote, "When you're trying to keep an award you've won but there's no space because your dad is like, 'been there done that, child'. In another story, he posted a picture with his award and wrote in the caption, "OTTplay Changemakers gave me an award for the rising star of the year. This helps my self-esteem. XD"
Babil received award for his work in "Qala"
Babil received acclaim last year for his acting debut in Anvita Dutt's Qala that released on Netflix in November. The psychological drama film starred Tripti Dimri, Swastika Mukherjee, and Varun Grover in pivotal roles. Babil will be next seen in an untitled film directed by Shoojit Sircar, who also directed his late father in Piku.
Disclaimer: Except the headline and synopsis, this story has been taken from the HT News Service