Nilu Kohli speaks candidly about the passing of her husband: Wish our family were allowed to grieve privately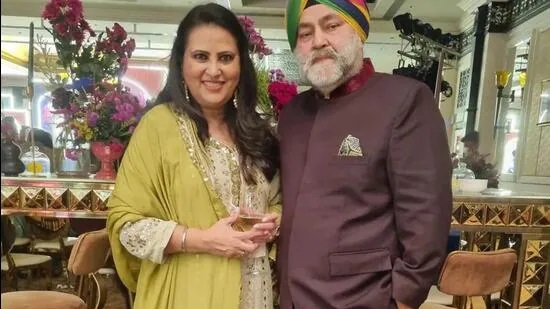 Actress Nilu Kohli discusses her husband's untimely and tragic passing. She also expresses displeasure in an exclusive chat about the media's invasion of her husband's privacy during his last rites.
The last couple of days have been extremely difficult for actor Nilu Kohli. "I don't even know (how the last couple of days been). This is the first time I have experienced, dil mein dard kya hota hai. It's actually a physical pain," Kohli laments. Kohli's husband Harminder Singh Kohli, died on March 24 due to "cardiac failure". "It was a regular day," she recalls. Kohli and her daughter were heading for a family function, while Singh was out on that Friday noon. "At around 12.30pm he called, I was getting ready for the pooja and my daughter was late. I was very hassled and I told him 'Baad mein baat karti hun tumse'. These were my last words to him," she breaks down.
Singh passed away in late March of this year
Singh collapsed in his bathroom while his house help putting his lunch on the table. Kohli was informed by the house help. She along with her daughter rushed to their place. "When I saw him at that point of time, I knew things were not very good," she mentions. Singh was declared dead on arrival at the hospital.
Kohli's statement on this tragic event
The Choti Sarrdaarni actor admits his demise "was like a bolt". "When somebody goes after an illness there is some kind of preparation. I didn't know what to deal with. Me and my children took turns in breaking down. My son became the man of the house overnight. Within 15 days, he has streamlined his (Harminder's) business. There used to be a time when the father and son used to fight and he would say that he would never be a part of his business.The irony of life is that today he wants to do it," Kohli shares.
Nilu Kohli was aghast by paparazzi's intrusion
Given Kohli's celebrity status, the death and the funeral of her husband was widely reported. Several paparazzi pages were plastered with pictures of the family. Kohli who was in a devastated state wasn't even aware of the presence of media at the funeral. "I wish our family were allowed to grieve privately. I wish we were allowed those private moments. I don't come from a filmy background and my family has no idea that the media was there to cover the funeral. I respect the media. But just a little thing…I'm not upset, because I know they were doing their job," Kohli complains.
Grieve functions peculiarly. "Insaan har samay nahi rota. Pehle lagta tha ki wo bahar gaye hai, and then it hits that he won't come back. It wasn't his age to go. He wanted to live and enjoy his life," the 58-year-old wails.
Disclaimer: Except the headline and synopsis, this story has been taken from the HT News Service