Sibling Love: Avantika and Abhimanyu Dassani admit they are similar to David and Alexis from Schitts Creek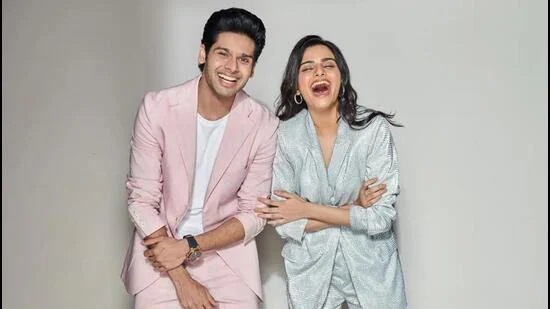 Abhimanyu Dassani and Avantika Dassani, actors, discuss their relationship, their favourite moment, and more on National Siblings Day.
Growing up, actors Abhimanyu and Avantika Dassani were surrounded "by half a dozen of cousins". Avantika recalls, "We've grown up in a quintessential Indian family with at least half a dozen cousins, so it was constantly a full house of madness, hub chaos, battle of food, or pokemon collections and sometimes are our lives." However, amid all the chaos the two always found support in each other.
Avantika and Abhimanyu express their love for each other on Siblings Day
"Avantika means the world to me," says Abhimanyu on Siblings Day. He adds, "Growing up with her has been incredible, and I wouldn't be who I am today without her. She has always been there for me through thick and thin, offering unwavering support and unconditional love. Our bond goes beyond just being family; we're best friends who share a special connection that only she can understand. We've had our fair share of fights and disagreements, but we've always come out stronger on the other side."
On the other hand, Avantika believes that growing up with Abhimanyu and her boys (her siblings) made her "tough." She further elaborates, "Abhimanyu plays a very important role in my journey. He has prepared me for the world and taught me to be a team player, as well as the qualities of tough love and loyalty. He is my first example of understanding these important values."
Sharing memories of each other
One of the earliest memories of having a rock-solid brother for Avantika was when she was 4 and the entire family was on a trip to Singapore. "It was our first holiday abroad. Abhimanyu was just nine. Our parents had fed us dinner and put us to bed, so they could go out and enjoy their evening. However, a few hours later, I woke up hungry, which they had not expected. Abhimanyu and I decided to take matters into our own hands and went down to the hotel cafe to order some dal chawal for me. He even fed me himself, not knowing that our parents were sitting right there and watching us in amazement," Avantika remembers. A blushing, Abhimanyu chimes in, "That moment always brings a smile to my face as it reminds me of the bond and care we share as siblings."
While the two are actors themselves, ask them if there's a fictional sibling pair that they resonate the most with and the duo names: Ross – Monica (Friends) and David – Alexis (Schitts Creek). "It's a mix of these characters as our personalities are definitely a combination of quirks and craziness," the Mithya actor explains.
If you had to write a bio for your sibling's dating profile, what would it be?
Avantika: I think my brother is good at dating apps, but if I had to write one, it'd be: He is the sunder you are looking for.
Abhimanyu – Her bio will be 'Boys break trust, but my brother breaks jaws.'
One thing you like, dislike and tolerate about each other
Avantika: I like his perseverance but I totally dislike his untidiness and tolerate his sense of humour.
Abhimanyu – I adore Avantika's kindness, and I enjoy her sense of humor, but I do have to say I absolutely tolerate her weirdness.
If you had 30 seconds to say something to each other
Avantika: I know you teased me a lot growing up about being adopted, but now I'm starting to believe it might be true. There's no way we share the same DNA. Let's be honest, I'm the cooler and nicer one of the two of us. Please accept it.
Abhimanyu: You've grown into such a beautiful person, and I know the world can be tough. But every time you overcome adversity, remember to thank me for being your brother.
Disclaimer: Except the headline and synopsis, this story has been taken from the HT News Service