Jimin makes history by becoming the first South Korean solo musician to reach the top of Billboard Top 100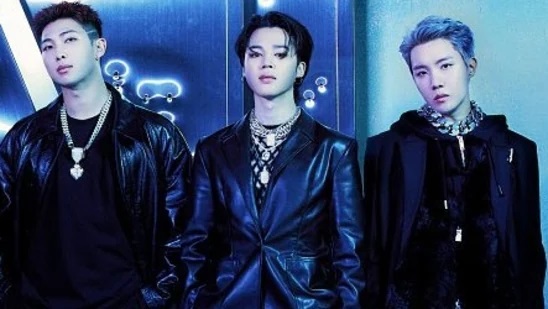 The Billboard Hot 100 was topped by Jimin, the first South Korean solo artist to do so. He was congratulated by J-Hope and RM. The singer explained why his father was "upset" about Face.
BTS member Jimin made history as he became the first South Korean solo artist to hit No 1 on Billboard's Hot 100. Taking to Instagram on Tuesday, Billboard shared a post. The caption read, "Jimin makes waves on this week's @billboardcharts thanks to his debut solo album, FACE."
It also added, "The BTS member becomes the first South Korean soloist to hit No 1 on the Hot 100 with Like Crazy. On the Billboard 200, FACE opens at No 2 — earning the second-largest debut week of 2023 after Morgan Wallen's One Thing at a Time."
Jimin, RM and J-Hope Instagram post
Jimin also shared Billboard's chart on his Instagram and wrote, "Love u all,, (purple heart emoji)." Reacting to the post, BTS leader RM posted fire emojis while group member J-Hope dropped purple heart emoji.
RM also took to his Instagram Stories to share a photo of the Hot 100 top 10 rankings. He added, "I'm proud" and tagged Jimin. RM is also the co-writer of Jimin's song Like Crazy. J-Hope also shared Billboard's post adding a bunch of purple heart emojis. He wrote, "This is history..Congrats" and also tagged Jimin.
Jimin also hosted Weverse Live
Hours later, Jimin hosted a live session on Weverse and interacted with his fans. The singer said, "Since it felt so unreal, I didn't know how to express myself through text so I turned the live on.. I wanted to talk to you guys in person. The PDnim who helped me make the album was crying.. people were contacting me to congratulate me..Honestly, it's possible because I'm (in) Bangtan and because ARMY you all are there."
Jimin also added, "The members said that it'd be nice if you make a song like that.. that's how I started working on the album after coming back from the US. My father just called me a while ago and said he's proud of me. When I first made my father listen to the album he said he was upset on listening to it." When J-Hope in the comments section asked the reason, Jimin said, "I don't know, he said the content of the album seemed sad."
Jimin also spoke about RM, "Namjoonie hyung also called me.. thank you to everyone. I got complimented by the leader hyung with, 'I'm proud (of you)'." He also added. "Thank you so much for today and I love you. Thank you. I'll work even harder. I'll try more to be even better. I'll become (someone) that you can be proud that I'm your artist."
"Since I didn't really think much of charts and such end results so I'm even more grateful… I'm not sure how to express myself. Thank you to everyone who worked hard," Jimin signed off. Last month, Jimin unveiled his first-ever solo album Face. The album comprises the songs–Face-off, Interlude: Dive, Like Crazy, Alone, Set Me Free Pt.2, and Like Crazy (English Version).
Disclaimer: Except the headline and synopsis, this story has been taken from the HT News Service