Sharmila Tagore recalls the controversy about her bikini scene in "The Evening in Paris"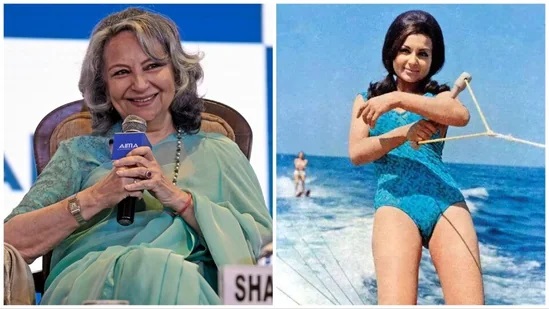 Sharmila Tagore revealed the responses she received from viewers to her swimsuit scene. She also remembers attempting to keep the movie poster hidden from her mother-in-law.
Sharmila Tagore spoke recently about the reaction that her bikini scene in An Evening In Paris (1967) got. She said the public, including the film industry, was 'quite surprised' by it. The veteran actor added that there were questions asked about it even in the Parliament at that time. Sharmila also recalled how she asked her driver to take down a poster from the film near her house in the middle of the night as her mother-in-law was 'coming to town'.
Sharmila recalls the repercussions of the scene
After the film's release, Sharmila said that she realised that 'a glamorous image is all very good', but if she wants to be taken seriously, then she will have to be more than that. She added that Aradhana (1969) arrived at that time, and from then on, she started 'consciously choosing' her scripts.
Speaking about the reaction to her film An Evening In Paris, Sharmila Tagore was quoted as saying at a recent event by The Times of India, "When I did An Evening In Paris, my bikini scene was shocking. The public, including the industry, was quite surprised. I believe there were questions asked in Parliament at that time. Although it looks very innocent now, compared to the kind of films we see today."
She further recalled an incident around the film's release, and said, "I remember there was a poster of the film on the road (near her home), and my mother-in-law was coming to town, so I got my driver to take down that poster in the middle of the night – not realising that there might be other posters on the way from the airport."
Sharmila's stellar career
Sharmila also said that after Aradhana, she did films that spoke to her such as Amar Prem (1972), Avishkar (1974), Mausam (1975) and Namkeen (1982), among others. She said that she managed to take herself beyond glamour, adding 'glamour is not forever'.
Sharmila Tagore recently made her comeback to acting with Gulmohar. Helmed by Rahul Chittella, the film also stars Manoj Bajpayee, Suraj Sharma and others and was released on Disney+ Hotstar on March 3, 2023.
Disclaimer: Except the headline and synopsis, this story has been taken from the HT News Service