MM Keeravani got emotional as Richard Carpenter sings for the RRR crew, and SS Rajamouli reacts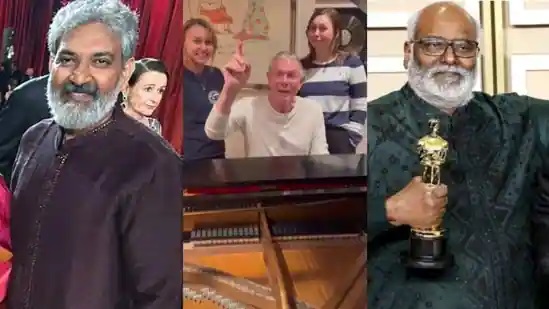 Following their Oscar victory, Richard Carpenter gave the RRR crew a song performance. MM Keeravani reacted to it, and SS Rajamouli got emotional.
Oscar-winning composer MM Keeravani and lyricist Chandrabose couldn't have asked for a better gift when they received a special video from Richard Carpenter of The Carpenters fame. In the video which was shared on his Instagram page, Richard sang a reimagined version of The Carpenters' song On Top of the World to congratulate team RRR, particularly Keeravani and Chandrabose whose song Naatu Naatu won the Oscar for Best Original song.
Richard Carpenter's insta post
Richard was seen singing and performing with his family, On Top of the World with the lyrics, "We are on the top of the world for your winning creation and we hope you know how proud of you we are. You are the best there is around and we hope you know it now…" In an Instagram post, he wrote, "To @mmkeeravani_official and @chandraboselyricist: Heartfelt congratulations on your win for Best Original Song. Here is a little something from our family to you and yours."
SS Rajamouli's reaction
Reacting to the video, RRR director SS Rajamouli commented, "Sir, throughout this Oscar campaign my brother maintained a calm composure. Whether it is before winning or after he didn't let his emotions out. But, the moment he saw this, he couldn't control the tears rolling down his cheeks..most memorable moment for our family…Thank you so much.."
Upasana's reaction to the post
Actor Ram Charan's wife Upasana wrote, "This is so lovely." Keeravani also said, "This is something I didn't expect at all. Tears rolling out of joy. Most wonderful gift from the Universe." He also shared the post on his Twitter page.
On Wednesday, Keeravani returned to Hyderabad. He took to Twitter to share his return with a touching post. He tweeted, "Dearest JANANEE. Your support made us cross the Atlantic WATERs , keep the FIRE alive within – and create history. RRR means the world to me. But for now it means Return home. Receive your love and Rejoice (sic)."
Keeravani's winning speech in the Oscars
On winning the Oscar for Naatu Naatu, composer MM Keeravani said in his acceptance speech, "There was only one wish on my mind…RRR has to win …the pride of every Indian…and it must put me on the top of the world."
Over the last few months, Naatu Naatu truly became a global phenomenon. Released last March in cinemas, RRR is a fictional story set in the 1920s pre-independent era and is based on the lives of two real heroes and well-known revolutionaries.
Disclaimer: Except the headline and synopsis, this story has been taken from the HT News Service