Soppana Sundari review: Contrary to the majority of crime comedies, Aishwarya Rajesh's film never takes itself too seriously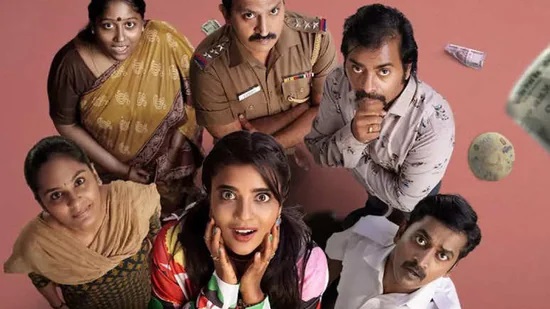 One of those rare movies when the female leads, particularly Aishwarya Rajesh, command attention and deliver a powerful punch.
SG Charles's Soppana Sundari, which is led by three women in the central characters, is a simple film with its heart in the right place. A crime comedy, which focuses more on the aftermath as well as the chaos created by the crime than on the crime itself. Unlike most crime comedies, Soppana Sundari is refreshing because it never takes itself too seriously and this is what works in the film's favour in a big way. The film, which is about the madness that revolves around the ownership of a car, borrows its title from the comedic stretch of 1989 Tamil film Karakattakkaran, about the possession of Soppana Sundari's car.
Synopsis
Aishwarya Rajesh plays Agalya, who comes from a lower middle-class family. She's the breadwinner of her family, which also includes her bedridden father, mother and a mute elder sister, who is past her marriageable age. One fine morning, their lives change drastically, when they learn that they've won a car in a raffle. But their happiness only lasts a few days as many parties come forward claiming ownership of the car, paving way to so much chaos and drama. In the desperation to keep their car, the family finds itself embroiled in a crime and the events that follow take a dark turn.
Review
Soppana Sundari is one of those rare films where the women, mostly side-lined to play characters that don't add much value in mainstream cinema, take centre stage and pack a solid punch. SG Charles deserves a lot of praise for writing a dark comedy around women who aren't ashamed to get their hands dirty. In one of the best stretches of the film, the family decides to make money off their ailing father (an alcoholic for many years) after the mother gives up on him and decides to sell his organs to save themselves from the mess they get involved in. This is writing with some conviction and the women also equally deserve a lot of praise for doing justice to that writing with their performances.
Another interesting aspect of the film is that the women fend off for themselves right till the end. Even when they find themselves in the most unexpected situations, they muster up courage to find a way out. Never even for a minute do we see the women being dependent on any male characters in the film. Soppana Sundari is a quirky take on human desire and it shows much far one would go when blinded by greed. The film does remind one of Nelson's Kolamavu Kokila, another dark comedy about a lower-middle-class family stuck in an extraordinary situation. Thankfully, Soppana Sundari is not as dark as Nelson's film but it is slightly over-the-top in its comedic treatment which makes it unique.
Verdict
When it comes to the performances, Aishwarya Rajesh is definitely the pick of the actors. However, she's strongly supported by the presence of Deepa Shankar, who really scores well in some scenes along with Lakshmipriyaa. The climactic action episode (involving Aishwarya) may seem a little far-fetched, given how the film never tries to become massy until then. Nevertheless, it's hardly a grouse in an otherwise largely entertaining film.
Disclaimer: Except the headline and synopsis, this story has been taken from the HT News Service