After Sushmita Sen's heart attack last month, her brother gives an update on her condition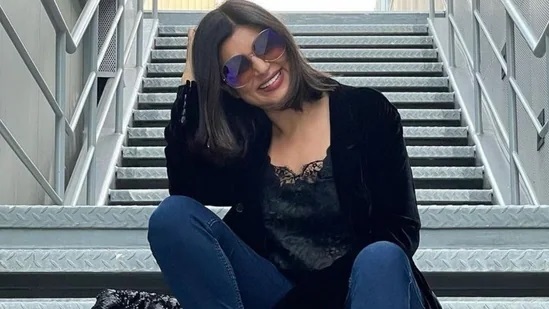 Having suffered a heart attack in March, Sushmita Sen is "doing much better," according to her brother Rajeev Sen in a recent interview. She is wrapping up Aarya 3.
Sushmita Sen's brother Rajeev Sen spoke about the actor's health in a new interview. In March, Sushmita had said that she suffered a heart attack. Sharing her health update with fans, Rajeev said Sushmita was doing 'absolutely fine now'. Calling her mentally and physically 'very strong', the actor praised Sushmita for managing her work and health along with raising her two daughters Renee Sen and Alisah Sen.
Sushmita Sen suffered heart attack in March
On March 2, Sushmita Sen had broken the news of her heart attack, a couple of days after it happened. In her Instagram post, the actor had said that she underwent an angioplasty at a hospital. Days later, Sushmita informed fans in an Instagram Live that it was a 'massive heart attack', which had caused 95 percent blockage in one of her arteries. She is now working on her web series Aarya season 3.
Rajeev Sen's statement about Sushmita's health
Speaking to ETimes, Rajeev said about Sushmita, "She's absolutely fine now with the blessings of God. What happened was quite unfortunate, health is something which is quite unpredictable, things can happen. But touchwood she's doing much better, she's back to work." He added, "She is mentally very strong and physically as well. You need to be because it is not easy to manage two kids and be an actor at the same time. I did a short film for about 4 days and I had to go through so much and do hard work. And here I see my sister shooting for months non-stop. It takes a lot of toll and it is not easy."
Sushmita is currently shooting Aarya 3
Earlier this month, Sushmita's co-star Vikas Kumar had said in an interview that she had heart attack after landing in Jaipur for Aarya 3 shoot. "A major chunk of season 3 is done. The show is Rajasthan based. There are some outside scenes that we have to shoot in Jaipur. We landed there, but unfortunately, Sushmita Sen suffered a heart attack. We didn't know at first about it. Ultimately in a couple of days, we got to know, as she revealed it to the world," Vikas had told News18.
He had further said, "In the beginning, even she didn't know what happened. Tests were done and all. She came to know about it later and then she told the world. That's how we got to know. We just did one day of shoot and then we realised that we can't proceed. By then, it was obvious that was not just a day or two affair, but we need to stop. So we stopped for a bit."
Sushmita, who was diagnosed with the autoimmune condition called Addison's Disease in 2014, had urged fans to monitor their health in a recent Instagram Live. Last month, just days after her heart attack, Sushmita left everyone surprised as she walked the ramp at the Lakme Fashion Week in Mumbai for designer Anushree Reddy. She was met with a thunderous applause as she turned showstopper.
Disclaimer: Except the headline and synopsis, this story has been taken from the HT News Service