Kangana Ranaut has an interesting reaction to kid with viral 'can I take Vamika on date?' placard during IPL match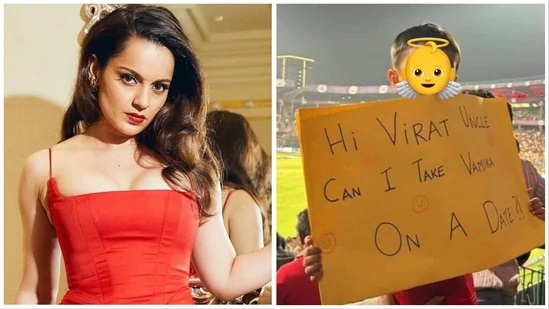 During a game, a young fan held up a sign that read, "Can I take Vamika on a date?" Kangana Ranaut responded to the young fan. Virat Kohli and Anushka Sharma's daughter is named Vamika.
Kangana Ranaut has reacted to the viral placard held by a kid a few days ago during an IPL match. During RCB's (Royal Challengers Bangalore) match against MS Dhoni's Chennai Super Kings (CSK), a photo of a boy holding a placard for Virat Kohli had grabbed the attention of netizens on social media. The child holding the placard made a special request to Virat and actor-wife Anushka Sharma. The placard read, "Hi Virat uncle. Can I take Vamika on a date?"
Kangana reaction on Twitter
Reacting to the viral picture of the kid, Kangana took to Twitter and wrote in Hindi, "Massom baccho ko yeh behuda baate na sikhaaye, issey aap modern ya cool nahi ashlil or fool lagte ho." (Don't teach these nonsense to innocent children, it makes you look vulgar and foolish, not modern or cool.)
Several fans reacted to Kangana's response in a favorable way and wrote in the comments. A tweet read in Hindi, "Bilkul sahi baat. Ye toh kuch bhi nahi he, aajkal metro sehat mein restaurant bar (jaha daaru bhi milti he) mei log apne baccho ko lekar jaa rahe he. Anko dekhi baat bata raha hu. mein toh dekhkar heiraan reh gaya tha." (Exactly right. This is nothing, nowadays people are taking their children to the restaurant bar (where alcohol is also available) in Metro Sehat. I am telling what I have seen with my eyes. I was surprised to see it.) Another comment read, "True, Kids are very impressionable and exaggerate everything in their minds. Parents unknowingly end up messing up with them with things like this." "Queen is always right," exclaimed another fan.
Internet seemed to be divided on viral pic
The picture had divided the internet where many called out the parents of the boy for making such an 'insensitive' and 'creepy' request to gain attention. "I shudder to imagine how creepy and insensitive the kid's parents are. The kid looks innocent – often it is the parent leading kids the wrong way. All for a moment of camera time?," a user commented. "Parents should be publicly called out for such horrible parenting. Sick." said another.
Earlier, Virat and Anushka had urged the paparazzi to respect the privacy of their daughter Vamika by not clicking her photos. "While we will always ensure that you get all the content you need featuring us, we would request you to kindly not take or carry any content that has our child. We know that you will understand where we are coming from and we thank you for the same," the couple had said.
Disclaimer: Except the headline and synopsis, this story has been taken from the HT News Service