Jin discloses the motive behind addressing the topic of BTS disbandment in 2018: 'Mentally it was too hard on us. We wanted to let it all go'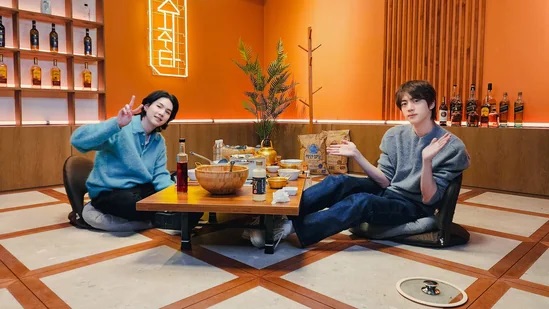 In the lineup of BTS, comprising RM, Jin, Suga, J-Hope, Jimin, V, and Jungkook, Jin had addressed the topic of the group disbanding during their 2018 MAMA speech.
BTS member Jin has opened up on why he talked about the group disbanding during his MAMA speech in 2018. Jin appeared as a guest on fellow group member Suga's variety web series Suchwita. J-Hope also came on the show for a brief while. Taking to its YouTube channel, BangtanTV shared a video of episode 12. The episode was filmed days before Jin left for his mandatory military service.
Jin's famous MAMA 2018 speech
On the show, Suga asked Jin about his MAMA speech. Jin responded, "Because that was when we were promoting Fake Love and every month we only had a day and a half (off). I got really mad over that half. For about three months, we only had a day off each month. The agency said we had to work like that in order to make it. We knew that it wasn't entirely wrong." Suga added, "Since everything was going on so well. 2018 was the biggest year for us. We were promoting Fake Love and IDOL."
Jin continued, "That's why we worked so hard. But mentally and physically it was too hard on us. And we wanted to just let it all go. We were like, 'I can't do this anymore. Let's stop here.' That's how we felt." Jin and Suga recalled that in 2018 BTS' office was in Nonhyeon-dong and the members went to a bar and drank.
Jin concluded, "So I just wanted to be honest about how we had felt. But when our fans heard that, I'm sure it could have sounded negative because it is not an easy thing to talk about. But it was in the past already. It was something that happened a year ago. It was true that we had thought about it and everything turned out okay in the end."
J-Hope and Suga spoke highly of fellow BTS members
J-Hope said, "Even until 2018 I thought we were just underdogs." Talking about the members Suga said, "What I love about our members is that when we are given good content we all voluntarily do it…Although we are in the same team I just feel really lucky to have met you all. I met really great people. We believe in each other, we don't think one of us won't do well." Suga also praised the vocal line.
Jin and Suga on struggle of singing live
Jin said, "When we first debuted I hated singing live. Singing while dancing is so hard." He recalled how RM, Suga and J-Hope said that singers had to sing live. Jin continued, "Even when we are running around we can sing now without having to control our breathing."
Suga recalled, "Remember what we used to do before? Before singing our part we would run in place for 10-20 seconds. We would wear masks to sing live, the kind that athletes wear, that makes it harder to breathe and brings up your heart rate."
Jin and Suga about future
Jin wondered if the BTS members–RM, Suga, J-Hope, Jimin, V and Jungkook, including himself would live together when it's 2050. Suga joked that even when he is 60, group member Jungkook will still be 'freaking annoying'. Suga signed off saying that he doesn't want any of the members to change.
Disclaimer: Except the headline and synopsis, this story has been taken from the HT News Service