Neena Gupta claims her groundbreaking on-screen kiss, the first on Indian TV, was ultimately deleted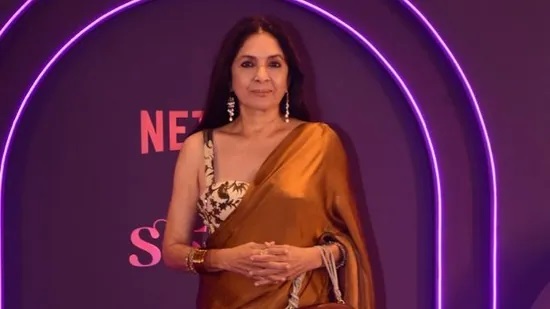 Neena Gupta shared her experience of sleepless nights leading up to a kissing scene in a TV show, only to realize her efforts were in vain.
Neena Gupta is all set to see the release of her anthalogy Lust of Stories 2, in which she features in one of the films. The promos show her as an old woman, stressing on the need to have a 'trial run' before two people (played by Angad Bedi and Mrunal Thakur) get married. In a recent interview, Neena opened up about her first kiss on screen and how difficult it was for her to kiss a person she wasn't in love with. She also revealed why the scene had to be removed from the show.
Neena revealed that she had to kiss co-star Dilip Dhawan in a Zee TV show Dillagi decades ago and despite her being able to do the scene somehow, it was removed from the show.
Neena on her kissing scene on TV
Neena told Instant Bollywood in an interview, "It had the first-ever lip-to-lip kissing scene on Indian TV. Main to raat bhar soyi nahi ki main kiss kaise karungi (I couldn't sleep all night wondering how would I kiss). It wasn't like he was a friend, we were acquaintances. He was good-looking, but that doesn't really matter in these situations, because physically and mentally, I wasn't ready. Physically, I am not comfortable. I was so tense, but I eventually convinced myself that I am an actor and I will have to do it. This is like some aren't able to do crying scene, some are not able to do laughter scene. So I took it as a challenge. And I did it. As soon as it ended, I rinsed my mouth with Dettol. It was so difficult for me to kiss somebody who I don't know, whom I am not in love with."
The scene was removed
However, the scene had to be removed as it didn't go down well with the audience. "The channel thought that they will boast about it in the promo, calling it the first kissing scene on Indian television and all that. They had to remove it because it went against the publicity, it went against them. There used to be just one television in each house and people said how would they watch it with their children," she said.
Neena also added that she also did a love scene in the 1984 film Utsav and it was very difficult for her to do it. She played the role of Madanika, a courtesan slave in Vasantsena's (Rekha) house in the film. It had some intimate scenes featuring Shankar Nag and Neena.
Disclaimer: Except the headline and synopsis, this story has been taken from the HT News Service