Sheema Kermani, Pakistani dancer, expresses opposition to remake culture amid backlash for "Pasoori Nu"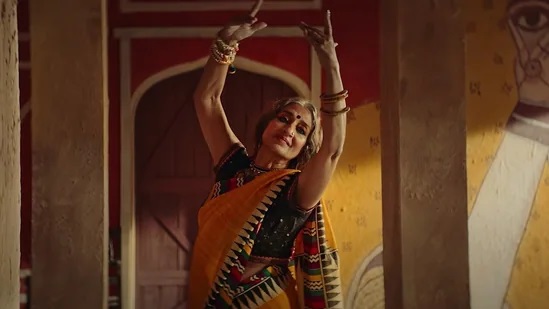 Sheema Kermani, the Pasoori dancer, recently voiced her disapproval of remaking beloved classic songs, following the release of the song "Pasoori Nu" from the movie Satyaprem Katha.
Pakistani dancer Sheema Kermani, who featured in the hit song Pasoori, has said she is not in favour of remakes although they introduce the young generation with old songs. Her hit Pakistani number was recently recreated for the film Satyaprem Ki Katha starring Kartik Aaryan and Kiara Advani. Arijit Singh and Tulsi Kumar have sung Pasoori Nu for Satyaprem Ki Katha. Gurpreet Saini has written the lyrics along with Ali Sethi and the music is by Rochak Kohli. The original was sung by Ali Sethi and Shae Gill.
On remake culture
Sheema Kermani has now said that she has not watched the new song Pasoori Nu. She has however, asked the motive behind remake of a song which is already beautiful and believes the original version is always the best. She told Aaj Tak, "I don't like remake culture too much. Although seen in a way, the advantage is that young people are also listening to the old iconic songs. It's a good thing. Personally, I am against it."
More about Sheema Kermani
Sheema is a renowned dancer and social activist in Pakistani who excels in Bharatnatyam and other dance forms. She is the founder of Tehrik-e-Niswan Cultural Action Group (Women's Movement) and bats for preservation of culture, women's rights and peace.
Rochak Kohli on hate for Pasoori Nu
Earlier music composer Rochak Kohli said the hatred they have received for the recreated version of Pasoori was already expected. "We cannot stop any kind of reaction. Even before we created the remake, everyone including Ali and Arijit expected such reactions because it is like disrupting something that has been done really well. So the initial reactions were only on the idea that Pasoori was being recreated as many hadn't even heard the song. We launched the song on Monday morning and we received a lot of hatred. As people are listening to it, their reactions are turning positive and are saying that this isn't as bad as we expected."
After the release of Pasoori Nu, Shae Gill told her fans on Instagram Stories, "I don't want you to be sending hate to someone else. Just look at it as a rendition rather than a remake. May be that will help. And if it's something that you don't like at all, I would say don't listen to it."
Disclaimer: Except the headline and synopsis, this story has been taken from the HT News Service