Pregnant Ileana D'Cruz shares boyfriend's pictures from date night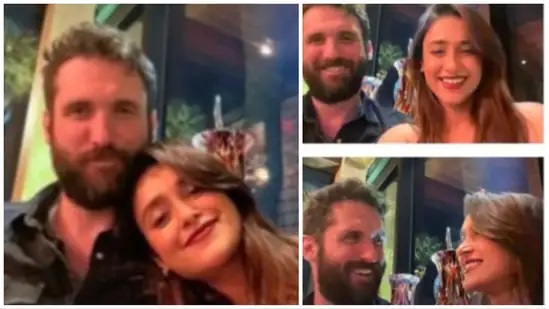 Ileana D'Cruz unveils her mystery man, sharing a series of pictures from their recent date night.
Ileana D'Cruz has finally revealed her mystery man. The actor is currently expecting her first child but has not yet talked about the father of the child. She has now dropped hints about the man in her life by sharing new pictures with him from their 'date night'.
On Monday, Ileana shared their pictures on Instagram Stories along with a heart emoji. While Ileana is seen in a strappy red dress, the man is in a black shirt and sports a beard.
Ileana shared pics of her boyfriend for the first time
The man in the picture looks similar to the one seen in a blurred picture shared by Ileana last month. She had shared the picture along with a long note on her pregnancy journey.
Ileana D'Cruz' shared her pregnancy journey
She had written about feeling lucky to be on her pregnancy journey. After sharing her happiness over the same, she had aso shared about how "things just feel hopeless" sometimes and there are "tears and guilt". She had added, "And this voice in my head puts me down. I should be thankful, not be crying over something so trivial. I should be stronger. What kind of mother will I be if I'm not strong enough… And I don't know what kind of mother I will be. I really don't. All I do know is that I love this little human so darned much already I could explode. And for now – I think that's enough."
Talking about finding support in her partner, she had written, "And on the days I forget be kind to myself, this lovely man has been my rock. He's held me when he feels me starting to crack. And wipes the tears away. And cracks goofy jokes to make me smile. Or just offers a hug when he knows that's exactly what I need in that moment. And everything doesn't seem so hard anymore."
Ileana recently featured in Badshah and Goldkartz song, Sab Gazab. She announced her pregnancy days after the release of her song. Her last film outing was The Big Bull with Abhishek Bachchan. She now has Unfair and Lovely and Lovers in pipeline.
Disclaimer: Except the headline and synopsis, this story has been taken from the HT News Service