Kamal Haasan tells Amitabh Bachchan he hated Sholay, lost sleep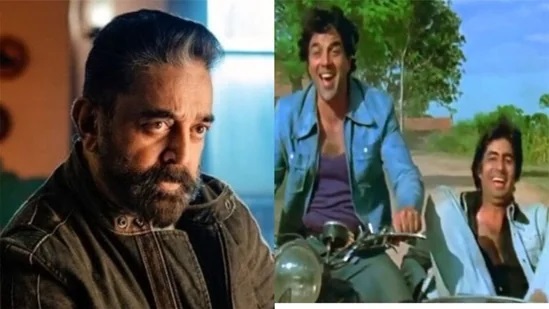 Kamal Haasan, who once served as an assistant director on Sholay, candidly recalled his dislike for the Ramesh Sippy film featuring Amitabh Bachchan.
Kamal Haasan has said that he did not like, in fact, hated the iconic Bollywood film Sholay when he watched it. Kamal worked as an assistant director on the film that featured Amitabh Bachchan, Dharmendra, Hema Malini, and Jaya Bachchan in lead roles.
Kamal at SDCC
Kamal, along with Prabhas, and Rana Daggubati, launched their new film Kalki 2898 AD at the San Diego Comic-Con on Friday. Amitabh and Deepika Padukone also feature in the sci-fi film directed by Nag Ashwin, but they were not present for the film announcement. Amitabh joined the cast remotely at the event.
Kamal showered praises for Big B
Speaking at the promotional event for his upcoming film, Kamal was showering praise on Amitabh Bachchan at the event, when the Bollywood star interrupted him. Kamal said, "What is so great is the energy that our audience brings to our cinema. We make the movies, they make the stars. And, it is an honour to sit with the audience and watch the likes of Prabhas and Amitabh Bachchan."
Amitabh, who was on a video call told him, "Stop being so modest, Kamal, you are much, much greater than all of us. This is not a performance you have to put up. The kind of work Kamal has done is very difficult to achieve. Each one of his films is filled with so much reality and effort that he puts in. It is an honour to be in the same film as him."
Hate for iconic Sholay
Kamal then recalled Amitabh's most iconic film – Sholay. "For those who remember Sholay with nostalgia, I was an assistant director. And, I couldn't sleep that night when I saw Sholay. First, I hated the film so much, I hated the filmmaker (Ramesh Sippy) even more. And I had the opportunity of working with that great filmmaker and I told him that that was my reaction when I saw the film. As a technician, I couldn't sleep that night and that's the kind of movie… many such movies Amit ji has done, and to hear him say nice things about my films is something I had not imagine when I was an assistant director and watching Sholay on the big screen. Thank you, Amit ji," he said.
Apart from Sholay, and the upcoming Nag Ashwin film, Amitabh and Kamal have also worked together in the 19985 movie Geraftar that also starred Rajinikanth.
Produced by C Aswani Dutt's Vyjayanthi Movies, Kalki 2898 AD is likely to feature Disha Patani and is scheduled for a theatrical release on January 12, 2024.
Disclaimer: Except for the headline and synopsis, this story has been taken from the HT News Service