Zeenat Aman's new post: Warning trolls, listing Instagram rules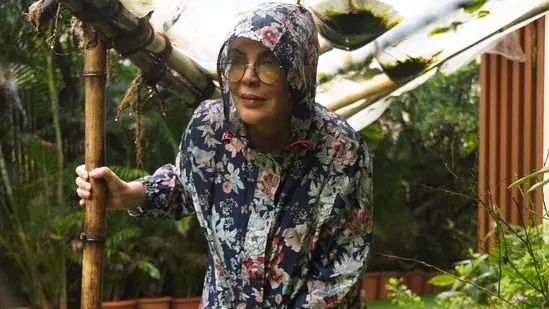 Earlier this year, Zeenat Aman joined Instagram and has since been sharing regular posts. Recently, she posted a set of rules for her followers.
Veteran actor Zeenat Aman has shared her pictures as she enjoyed the monsoon. Taking to Instagram on Tuesday, she also posted a note of caution to her followers as she laid down the 'rules of engagement' on the social media platform. Zeenat included no abuse or heated arguments or pitting women against each other in the comments section of her posts, in the list.
Zeenat's latest social media post
In the first photo, Zeenat smiled and crouched as she looked at the ground. Zeenat in the next picture looked ahead of her while holding a bamboo stick in one of her hands. In the last picture, she looked above as she stood in the garden. In the pictures, Zeenat wore a raincoat and a green skirt.
Zeenat's 'rules of engagement'
Sharing the pictures, Zeenat captioned the post, "Frolicking in the rain, and thinking about us! If we are to continue this relationship on Instagram, then I must lay bare my rules of engagement. I've learnt that every healthy relationship requires boundaries and here are mine: *Thou shall not spew abuses, be rude or gossip in the comments or messages. * Thou shall not pit women against one another. It is no compliment to me if it involves tearing down someone else."
She also added, "*Thou shall refrain from spam and forwards. These are a recipe for 'instant-block'. * Thou shall not tag me in irrelevant, unrelated and unsolicited stories or posts. It is a most annoying habit that doesn't do you any favours. * Thou shall not have inane and heated arguments on my page. You come across as utterly foolish when you do. * Thou shall quote me truly, without twisting my words. I'm looking at you, online portals that don't even copy-paste my captions correctly."
Zeenat also continued, "Differing opinions, personal stories, respectful comments and questions are very welcome! However, I just do not have the patience for trolls and am quite trigger-happy when it comes to the 'block' button. I know that many people struggle with social media, and that the Internet can be a place of venom, comparison, controversy and obsessive scrolling."
She concluded, "I do not wish to venture down that road nor send you there, so pay heed to my commandments! We'll be happier together if you do. That's it for today's lunchtime lecture. Now tell me, are there any online hygiene and etiquette tips that you follow?" Zeenat made her Instagram debut earlier this year and regularly shares posts.
Disclaimer: Except for the headline and synopsis, this story has been taken from the HT News Service