Jason Momoa marks his 44th birthday with a joyous snowy hot tub session: "Happy birthday to me!"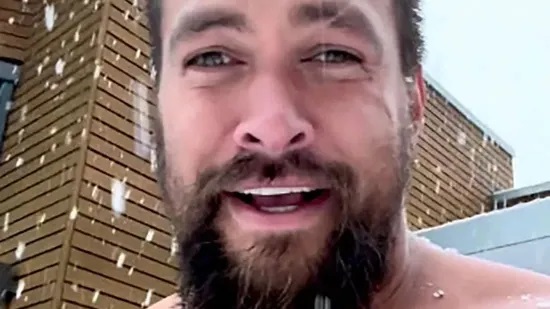 Jason Momoa, the Game of Thrones star, commemorates his 44th birthday with a delightful snowy hot tub session.
Jason Momoa had a birthday surprise from Mother Nature this year. The Game of Thrones star turned 44 on Tuesday and celebrated with a snowy hot tub session. He shared a video on Instagram, showing the unexpected snowfall as he walked outside with a bottle of his Mananalu Water, a company he founded.
Happy Birthday to me
"Happy birthday to me," he said, looking at the snowy scenery in awe. "What the hell is going on," he asked someone off-camera as he walked to the jacuzzi.
The 'Aquaman' star then showed his followers the snow-covered deck and trees around him. It is not clear where Momoa is, but he and his friends seem to be amused by the situation.
The Fast X actor, who is freezing but smiling got into the hot tub and looked around.
"Look at that, August 1st," he said, marvelling at the rare weather. "Never in my life — 44 years — did I ever get in a hot tub and it's snowing baby."
Momoa screamed and then drank from his bottle, "Cheers everybody, love you."
This happened just days after Momoa hosted the Discovery Channel's 35th annual Shark Week, which he told PEOPLE he had "been begging to do it for a while now. We've been trying to do it probably since 2018."
About taking on the dream role
The 'Fast X' actor's busy schedule prevented him from taking on this dream role until this year, so he said he was grateful he "could squeeze" filming in New Zealand while working on his upcoming Apple TV+ series Chief of War.
Momoa said he was interested in sharks not only because of his Aquaman role but also because "it's my original passion." He studied marine and wildlife biology in college before becoming an actor.
"This goes back to something I've wanted to do my whole life," the Hawaii native told PEOPLE.
He also said he grew up watching Shark Week, and he has continued the tradition with his children.
"It's a fun thing that I can share and learn with them," said Momoa, who shares daughter Lola Iolani, 16, and son Nakoa-Wolf, 14, with his ex-wife Lisa Bonet.
Disclaimer: Except for the headline and synopsis, this story has been taken from the HT News Service