Directed by Vishal Bhardwaj, this Indian adaptation takes inspiration from Agatha Christie's enduring classic, "The Sittaford Mystery," delivering a gripping and suspenseful experience. From its first episode, 'Charlie Chopra' establishes itself as a thrilling murder mystery featuring captivating characters and potential suspects, set against a picturesque backdrop.
Synopsis
The series commences with the shocking murder of Brigadier Meherbaan Rawat (played by Gulshan Grover), a respected member of the close-knit Rockford Estate community. This tragic event sends a chill through the community on a snowy night in Manali. Charlie Chopra (portrayed by Wamiqa Gabbi) becomes embroiled in the case because her fiancé, Jimmy (played by Vivaan Shah), emerges as the primary suspect following his recent encounter with Rawat shortly before his death. As Charlie delves deeper into the investigation, she unveils a complex network of potential culprits, all with a vested interest in Rawat's property. The central question revolves around whether Charlie can exonerate her fiancé and unveil the true perpetrator or if there's more to this mystery than meets the eye.
Review
Vishal Bhardwaj is renowned for crafting some of his finest works rooted in Shakespearean themes. In his latest endeavour, a web series titled "Charlie Chopra And The Mystery Of Solang Valley," Bhardwaj draws inspiration from Agatha Christie's novel "The Sittaford Mystery." While mystery often accompanies darkness (albeit to a lesser degree than the filmmaker's previous projects) and a touch of snowfall, these visual elements contribute to the noir-like atmosphere of the show. The ensemble cast is impressively robust, featuring distinguished actors such as Naseeruddin Shah, Ratna Pathak Shah, Neena Gupta, Gulshan Grover, and the emerging talent Wamiqa Gabbi. Wamiqa Gabbi portrays a spirited Punjabi character who takes pleasure in unravelling mysteries.
Vishal Bhardwaj's direction exhibits precision and finesse. He takes a commendably straightforward approach to the narrative, ensuring its accessibility. His meticulous attention to detail shines through in the meticulously crafted setting, including the snow-covered landscapes, majestic mountain ranges, and the presence of the cable car, all of which enhance the overall impact. The show maintains a light and enjoyable tone, with moments of humour and whimsy scattered throughout. The character of Charlie Chopra is exceptionally well-developed, presenting a smart and delightfully amusing female detective, a rarity in the Indian entertainment landscape. In this aspect, Vishal Bhardwaj strikes the right balance. The innovative touch of Charlie directly engaging with the audience by breaking the fourth wall adds a creative dimension to the storytelling.
The essence of Charlie Chopra's power lies in its distinction from typical narratives involving professionals and high-stakes scenarios. In this unique world, there is no imminent threat to the planet, and the outside world remains oblivious to this ecosystem's existence. It thrives in a confined realm, which could easily be a surreal nightmare from which an urban woman might wake up, pinching herself.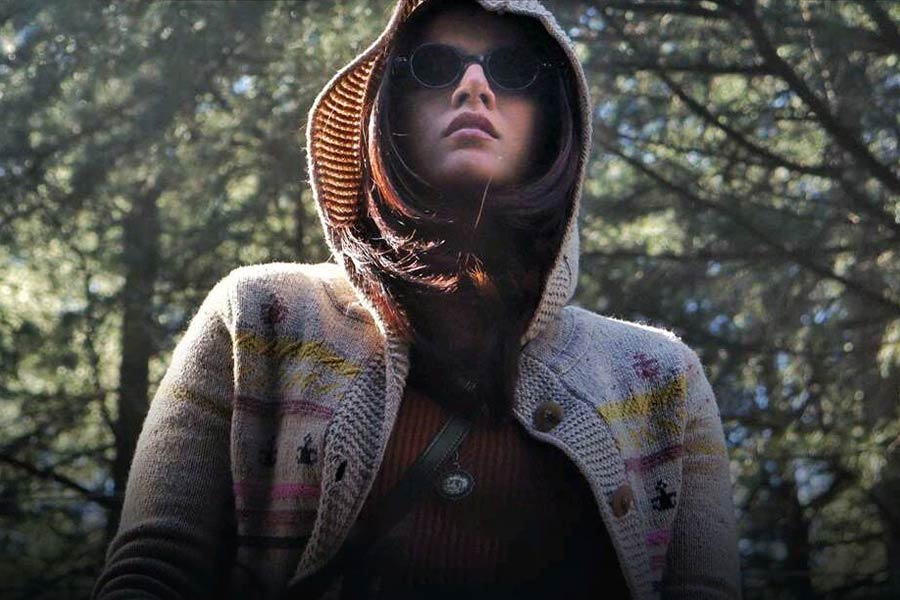 Consider, for instance, a world where only a select few possess smartphones, and their usage is limited to the most basic functions. Meanwhile, theatres continue to screen "Teesri Manzil" (1966), and the story unfolds several years, if not decades, after the chaos of the COVID-19 pandemic. But, is Vishal Bhardwaj and his co-writers attempting to introduce complexity into this world? The resounding answer is no. The filmmaker comprehends the scope and essence of his content. He aims to captivate your curiosity without causing undue confusion, and the straightforward structure of the show serves as clear evidence of this approach.
Charlie Chopra is an audacious character who exudes a delightful charisma, a quality that has been rarely witnessed on screen in such a nuanced manner for quite some time. Wamiqa instantly captivates your attention by directly engaging with the audience, breaking the fourth wall, and boldly confronting every senior figure to vindicate her partner, whom she insists was in the wrong place at the wrong time. Following her success in Jubilee, the actress, with her striking light eyes and unmistakable Punjabi heritage, convincingly brings to life this vibrant character within the enchanting backdrop of a mystical valley. She serves as the vivacious presence amidst the otherwise serene atmosphere, making all the right waves.
Verdict
Charlie Chopra captivates its audience with a gripping storyline, commendable acting, and the breathtaking scenery of Solang Valley's snow-clad mountains and forests. Devotees of Agatha Christie's writing will find themselves immersed in a suspenseful and chilling narrative. However, delving deeper into the story's complexities could have heightened the drama's overall impact. Nevertheless, 'Charlie Chopra' is an essential watch for enthusiasts of finely crafted murder mysteries set against a stunning backdrop.
You can watch this movie on SonyLIV with your Watcho Subscription. Enjoy your favourite content from multiple popular OTT apps. Check out Watcho Plans starting at Rs. 49 only!
Official Trailer