In 2010, when the film "Break Ke Baad," starring Imran Khan and Deepika Padukone, was released, Imran Khan wrote about his tendency to view things with a negative perspective at that time.
Actor Imran Khan, who recently hinted at making a comeback to films, has accepted his mistake of focusing only on the negative reviews he received on social media for his 2010 film Break Ke Baad with Deepika Padukone. He shared a glimpse of all such reviews along with all the positive comments he received from his fans and said that he wouldn't make such a mistake again. He also shared all the fun he and Deepika had while shooting for the film in Mauritius.
Imran Khan's statement on stories
Imran took to his Instagram Stories on Thursday and wrote, "If you are wondering why I'm looking up the past so much… it's because I'm reshaping my relationship with my films. To be clear, I'm not blaming anyone for anything; all opinions are valid, and not everyone will like the same things… that's normal. Unfortunately, at the time, I was only able to look at things from a negative mindset. As such, here is how I remembered Break ke Baad."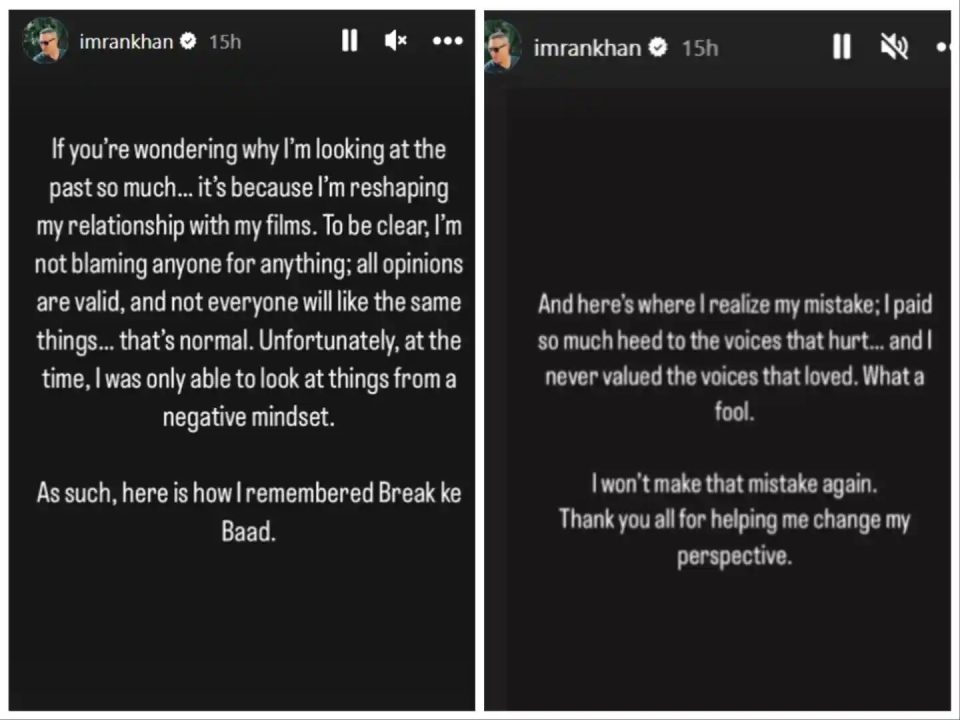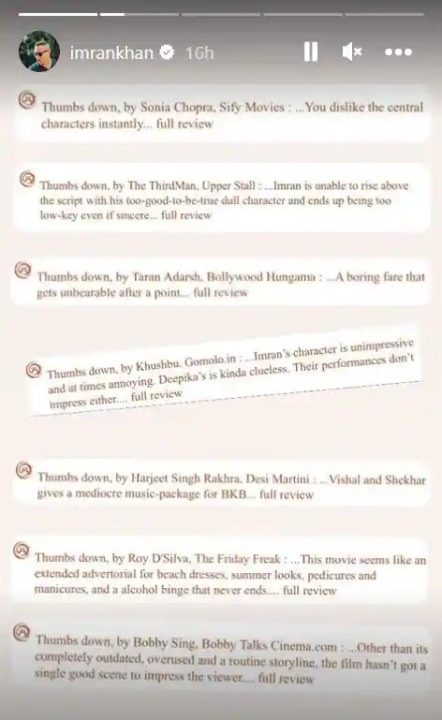 Negative Reviews for Break Ke Baad
Sharing a glimpse of several negative reviews for the Danish Aslam film, he wrote, "That was then." He also shared several positive comments and added, "And here's where I realise my mistake: I paid so much heed to the voices that hurt…and I never valued the voices that loved. What a fool. I won't make that mistake again. Thank you all for helping me change my perspective."
Imran Khan reveals all the fun he had during Break Ke Baad shoot
Imran revealed he and others had a blast while shooting for Break Ke Baad in Mauritius. Sharing a candid picture with Deepika Padukone, he wrote, "In the summer of 2010, I went to Mauritius to shoot Break ke Baad. We swam every day, ate a lot of seafood, sampled Mauritian rum (potent), and made some friends for life. It was a blast. Apparently, in between all the revelries, we managed to make a film as well. This one always had a special place in my heart, because of how much I enjoyed making it. I can't show you many of the behind-the-scenes photographs, as it may compromise the modesty of certain individuals… but here's a glimpse."
Deepika Padukone confirmed what Imran was saying and wrote, "Soo True!" along with a heart emoji. Imran's cousin Ira Khan wrote, "Every time you post… I get taken by surprise. Pleasantly surprised." Chef Harssh Kedia wrote, "This movie still gives me hope and scope for love. You might've been there briefly but still left an Adhoore mark in my life – Bollywood needed more Imran – alas didn't / doesn't deserve it. From Jaane Tu Ya Jaane Na to Break Ke Baad, I've cried and how! Miss you legend. (I don't comment usually on actor posts – haha) hope to see you back."
Imran Khan is the nephew of actor Aamir Khan and even played his child version in films like Qayamat Se Qayamat Tak. He made his debut as a lead actor with Jaane Tu… Ya Jaane Na in 2008 and was last seen in 2015 film Katti Batti.
Disclaimer: Except the headline and synopsis, this story has been taken from the HT News Service.