Amul's sweetest "haathi mere saathi" ode to The Elephant Whisperers gets a response from Guneet Monga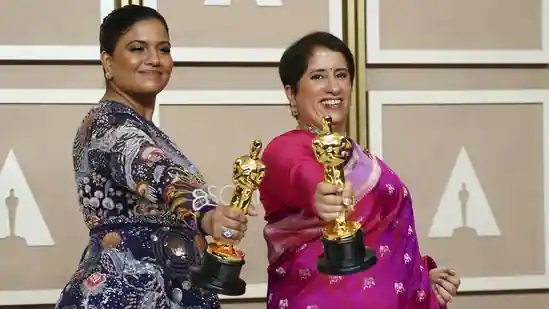 The Elephant Whisperers, by Kartiki Gonsalves and Guneet Monga won an Oscar on Monday, has received praise from Amul.
Indian documentary film The Elephant Whisperers won the Oscar in the Best Documentary Short Film category at the 95th Annual Academy Awards on Monday. Producer Guneet Monga and director Kartiki Gonsalves, who are being hailed for bringing the Oscar home, have also won a tribute from dairy brand Amul. The adorable tribute features Guneet, Kartiki and the Amul girl standing beside an elephant. It has been captioned as 'Haathi Mere Saathi' and 'Amul jumbo taste'.
Guneet Monga's reaction to the Amul post
Reacting to the Amul tribute on her Instagram Stories, Guneet simply wrote 'BEST'. The tribute sketch shows Guneet and Kartiki holding the Oscar trophy in their hands and the elephant too is seen in a celebratory mood as he stands on its two feet.
The Elephant Whisperers won Best Documentary Short Film at the Oscars
The Elephant Whisperers won one of the two Oscars for India on Monday, with RRR song Naatu Naatu winning in the Best Original Song category. The Elephant Whisperers was competing against Haul Out, How Do You Measure A Year?, The Martha Mitchell Effect, and Stranger At The Gate. It revolves around a family who adopts two orphan baby elephants in Tamil Nadu's Mudumalai Tiger Reserve.
Guneet Monga's statement after the win
Talking about her win, Guneet said, "This is an incredibly powerful and historical moment. We as two women from India, stood on that global stage making this historical win. I'm so proud of this film, this moment and proud of my amazing team at Sikhya Entertainment, that an independent production house from India has made the history to be the first ever Indian film by an Indian production to win an Oscar. My heart is racing with all the joy, love, excitement in the moment. I'm so grateful to Kartiki, the wonderful visionary that she is. Netflix gave us the biggest stage in the world and supported us n believed in us all the way. Today I can say, the future for Indian cinema is audacious, the future is here and not to forget the future is truly female!"
MK Stalin's twitter post
Tamil Nadu Chief Minister MK Stalin also congratulated Guneet Monga and Kartiki Gonsalves for winning the Oscar. Taking to Twitter, Stalin wrote, "Congrats to Kartiki Gonsalves and Guneet Monga on winning the Oscar . No better news to wake up to than two women bringing the first ever Oscar for an Indian Production. The patient making and the moving story of The Elephant Whisperers deserve all the praises and accolades it's getting."
Disclaimer: Except the headline and synopsis, this story has been taken from the HT News Service.