Zeenat Aman remembers Dev Anand preventing her family from departing Mumbai before Hare Rama Hare Krishna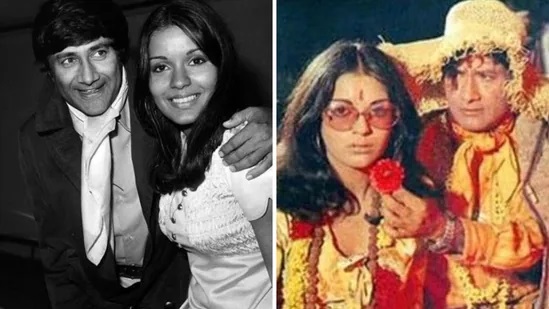 Zeenat Aman paid a lovely homage to Dev Anand, referring to him as her "starmaker." She also recounted how it was thanks to him that she signed Hare Rama Hare Krishna.
Zeenat Aman has been a refreshing presence in Instagram, sharing snippets from her daily lifestyle, and anecdotes from her decades-long acting career on the platform. In her latest post, the veteran actor penned a beautiful note for Dev Anand and recalled how she was cast in Hare Rama Hare Krishna while her family wanted to leave India. Reacting to the post, many fans commented how 'engaging' her words were for the late actor.
Zeenat shared interesting anecdote about her mentor Dev Anand
Sharing a black and white photo with Dev Anand from her earlier days, Zeenat penned a detailed note on how it was none other than the Guide actor who had discovered her and insisted that she stay patient for her role in Hare Rama Hare Krishna. Calling the iconic actor her 'starmaker,' Zeenat wrote, "When entering an industry like Bollywood, every actor hopes for a starmaker. Someone who sees the glimmer of potential and ambition that has perhaps only been visible to the self thus far. Very few are so lucky as to find this person, but I was. My starmaker was Dev saab."
"It was 1970, and I think O P Ralhan was feeling quite sorry for me. He had given me a bit part in Hulchul, it had made little impact, and I was already packing my bags to relocate to Malta with my mother and stepfather.
"Dev Saab and his Navketan team were casting for Hare Rama Hare Krishna at the time. In his largesse, O P Ralhan suggested that they meet me. I vividly remember what I wore that day. A fitted yellow top, a fawn-coloured skirt and glasses with yellow frames. My mother was at the meeting (remember, I was still in my teens). So she held forth, while I spoke when spoken to, and packed tobacco into my pipe. The meeting concluded, and a few days later the landline jangled. I was asked to come for a screen test, and that is how I came to be cast as Jasbir/Janice.
"Oh, but the saga doesn't end here. My family was ready to depart the country, but Dev saab persuaded my mother and I to delay our travels. So instead we flew to Kathmandu, stayed at the famous Soaltee Hotel, and waited long days to be called to set to shoot! I was frothing at the bit by the time it was finally time for my scenes. The first of which was a bus sequence. It makes me laugh to watch it now because I know I'm practically spitting out my lines in my impatience to prove myself!"
Zeenat then described how she was prepared to leave Mumbai with her mother yet again, but was Dev saab who had insisted them to remain back till the movie saw a release. After the film finally saw the light of day, everything changed. Zeenat further wrote, "In those days it took much longer to make a film from start to finish. Two or three years even. My mother and I once again prepared to leave Mumbai, and yet again Dev Saab persuaded us to stay. He promised to edit quickly and get the movie into the cinemas. Sure enough, the film released, it became a huge hit, and I became a star.
"My immigration plans were now indefinitely postponed, and Dev Saab started writing another script with me in mind…(More tomorrow.)"
Netizen's reaction on the post
Director Anurag Kashyap reacted to the post and commented, "Love this story .. and thanks to dev saab for a lot of people he brought into this industry , and for you (red heart emoticon)." Another fan wrote, "This is heartwarming. Dev sahab always remembered you fondly in all his interviews! We all are grateful to him for giving us you!" "You are truly the best thing to happen to Instagram. You were also the best thing to happen in my childhood," said another. "Your such a fabulous storyteller. Gonna wait for tomorrow," said another as Zeenat also promised to return back with more anecdotes.
Zeenat played a drug-addict who eventually takes her own life in the 1971 film Hare Rama Hare Krishna, a musical drama by Dev Anand starring himself as Zeenat's brother. Zeenat played the role of nomadic Janice in the hit film. It had many iconic songs, including Dum Maaro Dum, and Phoolon Ka Taaron Ka.
Disclaimer: Except the headline and synopsis, this story has been taken from the HT News Service