Priyanka Chopra shares when she fell into depression because of a bad nose job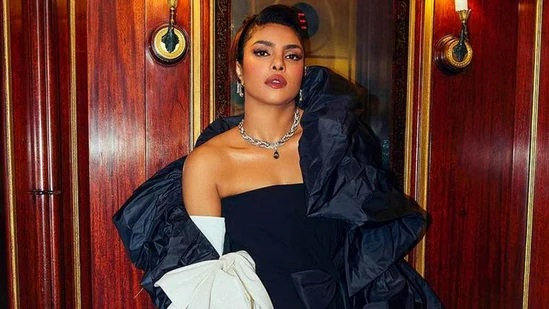 As a result of a botched surgery, Priyanka Chopra remembers being scared and experiencing "a deep, deep depression." She mentioned how much her dad had helped her.
Priyanka Chopra revealed that a botched nose surgery drove her into a 'deep depression', and how she thought it could end her career. The actor spoke about undergoing the procedure after winning the Miss World 2000 crown. In a recent interview, Priyanka was asked about the botched surgery, and she called it a 'dark phase.
She went for a surgery after winning Miss World
Shortly after winning Miss World more than two decades ago, Priyanka went to a doctor as she was having trouble breathing and had a 'lingering head cold'. She said the doctor had found a polyp (tissue growth) and had suggested surgery to get the polyp in her nasal cavity removed. The actor said the doctor accidentally shaved the bridge of her nose and caused it to collapse, changing her appearance, which lead her to be fired from three movies. She feared her acting career was 'over before it started'.
She revealed how her father helped her overcome her fear
Priyanka also opened up about how her late father Ashok Chopra, who was a doctor in the Indian Army, had encouraged her to get corrective surgery despite her fears. "This thing happens, and my face looks completely different, and I went into a deep, deep depression… it (her acting career) was over before it started (as she was fired from three different movies after the fact). I was terrified of that, but he (her dad) was like, 'I will be in the room with you'," Priyanka said on The Howard Stern Show.
Priyanka also credited Bollywood director Anil Sharma for giving her work, despite it all. She said, "I was supposed to play this lead, and I was shifted to a supporting character. That filmmaker (Anil Sharma) was very kind… He, while the tide was against me, said, 'It will be a small part, but give it your all.' And I did." Anil had directed Priyanka's first Hindi film, The Hero: Love Story of a Spy (2003).
She also addressed this incident in her memoir "Unfinished"
This isn't the first time Priyanka has opened up about the surgery. In her 2021 memoir, Unfinished, the actor had recalled thinking her decimated self-esteem would never 'recover from the blow'. She said she was encouraged to get more cosmetic procedures to boost her career.
Speaking of a director/producer, Priyanka had written in her book, "He stared at me long and hard, assessing me, and then suggested that I get a boob job, fix my jaw, and add a little more cushioning to my butt… If I wanted to be an actress, he said, I'd need to have my proportions 'fixed,' and he knew a great doctor in LA he could send me to. My then-manager voiced his agreement with the assessment." She said she eventually ditched her manager and decided not to heed the advice.
Priyanka was recently seen at Met Gala 2023 with singer-husband Nick Jonas. She is now busy with the promotions of her Hollywood film Love Again, and attended its New York premiere on Wednesday with co-star Sam Heughan.
Disclaimer: Except the headline and synopsis, this story has been taken from the HT News Service