Warner Bros Reacts as Vietnam Bans Margot Robbie-Ryan Gosling Film Due to Controversial Map Scene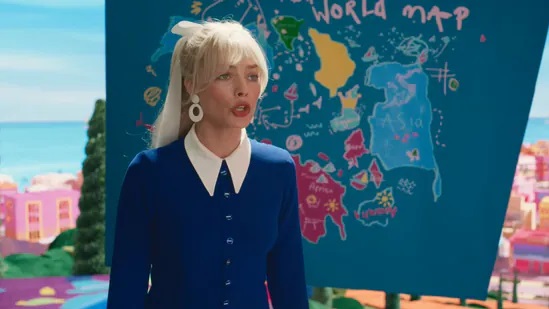 Greta Gerwig's Barbie, starring Margot Robbie and Ryan Gosling, was scheduled for a July 21 release in Vietnam.
Warner Bros' has responded after its highly-anticipated movie Barbie sparked controversy and was banned in Vietnam over a specific scene showing a disputed map. As per a new report, after facing backlash, a spokesperson for the Warner Bros Film Group said that the scene didn't 'intend to make any type of statement'. Directed by Greta Gerwig, the film stars Margot Robbie and Ryan Gosling in the lead roles.
Row over a scene in Barbie
The film has a scene, as per Variety, that depicts a map with the "nine dash line". It is a representation of China's territorial claims in the South China Sea, which Vietnam said that it violates its sovereignty. The particular map scene led to the film's ban in Vietnam. The film was set to hit theatres in Vietnam on July 21, aligning with its big-screen release in most countries around the world.
Warner Bros's statement
Speaking with Variety, the Warner Bros spokesperson said, "The map in Barbie Land is a child-like crayon drawing. The doodles depict Barbie's make-believe journey from Barbie Land to the 'real world.' It was not intended to make any type of statement." The childlike map, with scribbles and a hashtag, drew the attention of Vietnam earlier this week. The said scene has a board with the world map roughly drawn on it. Next to Asia, there are only eight lines and not in shape at par with official global maps.
Vietnam banned Barbie movie
News agency ANI quoted Vietnam state-run Tuoi Tre newspaper citing the head Department of Cinema Vi Kien Thanh as saying, "We do not grant license for the American movie Barbie to release in Vietnam because it contains the offending image of the nine-dash line." Vi Kien Thanh said the decision was decided by Vietnam's National Film Evaluation Council.
Past Controversy
This is not the first time the inclusion of the nine-dash line has stirred controversy in the cinematic scene. In the past, the MTRCB blocked the release of the film Uncharted in the Philippines due to similar concerns. In 2019, DreamWorks' Abominable was banned for the same reason.
TV series Put Your Head On My Shoulder and Madam Secretary was told to delete certain scenes containing the map in 2020. Netflix had to remove the Australian spy drama Pine Gap from streaming in Vietnam in 2021, as per New York Post.
Disclaimer: Except the headline and synopsis, this story has been taken from the HT News Service