Parineeti Chopra pens a heartfelt note post-engagement on social media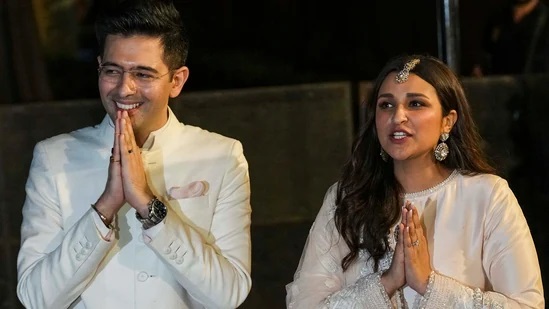 After their engagement ceremony, Parineeti Chopra and Raghav Chadha wrote a note. The media has also received their gratitude.
Parineeti Chopra has penned a note of gratitude for all those who congratulated her on her engagement with AAP leader Raghav Chadha. Raghav also shared a similar note. The couple has especially given a shout-out to the media for "being there through the day and cheering" for them. Raghav has also responded to Delhi chief minister Arvind Kejriwal's congratulatory post on Twitter for the couple.
Parineeti's note shared on social media
Parineeti's note read: "Raghav and I are overwhelmed with the love and abundance of positivity we have received over the past few weeks, particularly on our engagement. We both come from different worlds, and it's amazing to know that our worlds also unite with our union. We have gained a bigger family than we could have ever imagined."
It further read: "We are so touched by everything we have read/ seen, and we cannot thank you all enough. We embark on this journey knowing that you all are standing with us. A special shout-out to our amazing friends in the media. Thank you for being there through the day and cheering for us. Love, Parineeti and Raghav."
Raghav Chaddha's reply to CM Kejriwal's twitter post
Raghav also thanked Delhi CM Arvind Kejriwal who shared two pictures from the engagement ceremony to congratulate the couple. He wrote in Hindi on Twitter, "Many many congratulations to both of you on the beginning of this new journey of life. God bless both of you always. May this beautiful pair of yours made by God last forever."
A picture shows Raghav and Parineeti posing with Arvind Kejriwal and his family at the event. Another shows the Delhi CM giving Raghav a warm hug.
Responding to his tweet, Raghav replied on Monday in Hindi. He tweeted, "Sir, you have made our special day even more special by giving your blessings. Heartfelt gratitude to you and your family from Parineeti and me. This little friend of yours is starting a new innings of life today, I wish that your blessings remain like this forever."
Raghav and Parineeti made their relationship official post the engagement ceremony by sharing a few romantic pictures of them together. They were dressed in white for their engagement.
Disclaimer: Except the headline and synopsis, this story has been taken from the HT News Service