BTS Jungkook reveals more about the "rainy day fight" with co-member Jimin to fans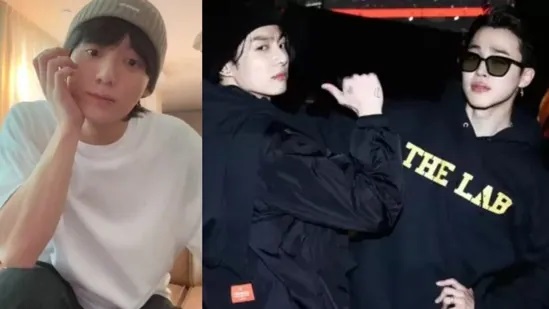 Members of BTS RM, Jin, Suga, J-Hope, Jimin, V, and Jungkook resided in the same dorm as trainees. Jimin and Jungkook once got into a heated argument.
BTS member Jungkook shared new details about his 'rainy day fight' with fellow group member Jimin, years after the duo first spoke about it. Taking to Weverse on Monday morning, Jungkook held a live session and interacted with his fans. Jungkook also talked about attending Suga's concert, playing guitar, his meals among other topics.
More about the famous "rainy day fight"
A fan asked Jungkook to talk about his fight with Jimin in the early days of their career. He said, as translated by Twitter user @haruharu_w_bts, "When we were trainees, personally I felt like I didn't really go through puberty but I was young. Because of the way I spoke, I don't remember it when I was younger but it was to the point where our Hobi hyung who is like an angel got mad, and the hyungs were talking to me about my tone. Jimin pulled me to the side to talk to me and because I also have my pride and thought I was right in some parts so Jimin was like 'I'm not gonna care for you anymore' and then left. Then I also left."
He added, "Then we were supposed to go into the dorm right away but I just thoughtlessly walked around and don't know how far I walked and I'm not great with directions so I wasn't sure where I ended up. This situation was sad and I felt unfair and was crying and was like, 'Should I call Jimin?' But then I was like, 'No why should I?' and ended the call. I repeated that again and then called him and then he was like, 'What are you doing right now? Where are you? What are you talking about?'"
Jungkook also said, "While talking like this I usually get tearful so I was like, 'I don't know where I am' and he was like 'What do you see around you' and I was like 'It's okay I'll take a taxi' and then it started raining and when I got back to the dorm and he was waiting outside and I was crying. Then we went to the rooftop and was talking. I told him I'm sorry and would do better. He was crying too but we hugged happily and then went inside. My eyes were really swollen the next day."
On attending Suga's concert
Talking about attending Suga's concert, Jungkook said, "Am I going to Yoongi concert? I have to go and see ARMYs then too. It'll be nice. Should I just go up on stage and say hi? If Yoongi hyung allows it, I'll go up and say hello. If he sees this and allows it I will but if not hehe."
He also updated fans about his health
Jungkook said, "I've been losing weight and working out because my shoulder hasn't been great. my posture hasn't been the best too so I've been working out." He also said, "My eyesight has gotten bad but I'm too lazy to go grab my glasses."
When asked if he ate, Jungkook said, "I ate breakfast. I tried not to eat but i think I have a big/strong appetite. I was trying to go to sleep but there's a spicy cup noodle and I made it and then added an egg and whipping cream then mixed it up and then got brown rice and ate it." He also said, "Lunch, I'm going to eat salad. How about you guys eat healthy too? I'm eating salad, so you should too. I'm gonna add chicken too." He also said that he has been stuck into cooking and 'that's all that's on my youtube'.
Jungkook on practicing guitar
Jungkook said, "I'm a little lazy but I need to learn so I can play the guitar on the stage too in the future." Before signing off, Jungkook said, "I don't know when we'll get to see each other again but let's shake hands, high five. Rest well."
Disclaimer: Except the headline and synopsis, this story has been taken from the HT News Service