Dead Pixel Web Series: The Series falls short of evoking genuine emotions, resulting in a lacklustre and trivial show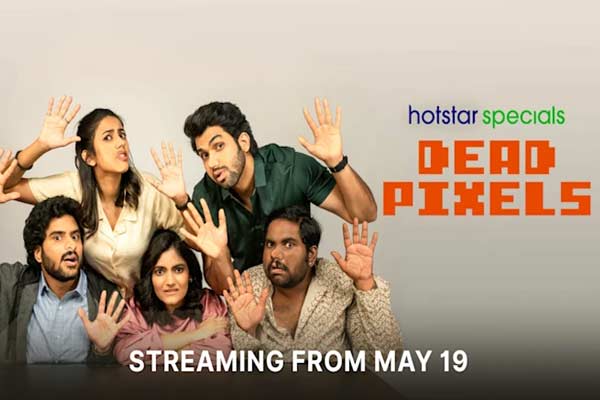 This Indian adaptation of the British television sitcom shares the same title but falls short of establishing an emotional connection, delivering an exaggerated and frivolous drama.
Synopsis
An obsessive obsession with the computer game Battle of Thrones unites Gayathri (played by Niharika), Bhargav (played by Akshay Lagusani), and Anand (played by Harsha Chemudu). They find themselves playing the game even during business hours since they are so involved in it. Completing the game becomes their ultimate aim in life.
When Roshan (Sai Ronak), a new employee at Gayathri's office, walks in, their routine is interrupted, and an attraction develops between them. The dynamics of the gang are eventually changed when Roshan joins the game. Do the four of them succeed in completing the game as the story progresses? What effects did Roshan's entry have on their journey? The narrative is built around these crucial moments.
Review
Dead Pixels, an Indian version of the famous British comedy series, is directed by Aditya Mandala and explores online gaming culture, friendship, romance, and the battle for work-life balance. Thanks to its specialised appeal, the series connects particularly effectively with people interested in or with online gaming expertise. The programme deftly captures the joy of playing video games online while delving into relationship difficulties. The humour is amusing throughout the entire series, especially for those familiar with video games, and the characters are compelling and sympathetic. The conversation is sharp and witty, frequently using inside jokes and game jargon. It's important to remember that the game described contains a lot of violence and that the language used can be foul.
There is limited room for additional elements to shine in "Dead Pixels" because it focuses entirely on the game industry. The show may not connect with its target audience if you doubt its goals and direction. Every TV show or movie has a specific audience in mind, and in the case of "Dead Pixels," that audience is unmistakably gamers. The show should create excitement beyond gaming, grabbing viewers' attention and providing something more. It appears that 'Dead Pixels' falls short in this area, which is a shame. It asks how well the remake reflects the spirit of gaming culture and interacts with the local audience. The show's creators need to have given more thought to these factors.
Niharika Konidela performs excellently, demonstrating her acting talent with perfect body language, facial expressions, and sentence delivery. Akshay Lagusani expertly captures the essence of an individual lost in their own virtual world as an introverted and obsessively committed gamer. With his joystick taking precedence over his responsibilities to his family, Harsha, a fellow player, provides the group with entertainment and togetherness. Sai Ronak performs as a clueless novice to the gaming industry, giving his character more dimension, while Bhavana Sagi shines as a smart buddy and dependable housemate. The supporting cast, which includes Rajeev Kanakala, Bindu Chandramouli, and Jayshree Rachakonda, also contributes to the show's success.
The game industry is the foundation for Ajay Mandala's "Dead Pixels" story, but that setting may not be compelling enough to appeal to a broad audience. It can be difficult for some viewers to relate to the show and its characters because many might need to be more familiar with these games. Although it is good that there is a romantic element between the main characters, the director missed an opportunity to improve the show by adding more real romance and realistic sequences with more significant emotional impact.
Verdict
'Dead Pixels' needs more gaming to pique curiosity. It needs more emotional connection and content. Does excessive game playing and being addicted to a computer screen have anything to do with video gaming? Do they recognise themselves in such personalities? 
Official Trailer