Jungkook's reacts as his solo "Seven" tops Billboard Hot 100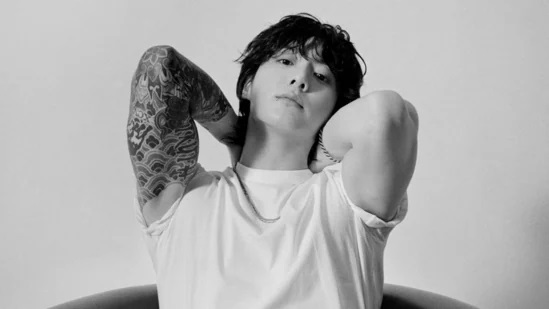 "Seven" marks Jungkook's debut at number one on Billboard Hot 100, making him the second BTS member to achieve this feat after Jimin, who topped the chart earlier this year with "Like Crazy".
Jungkook, the youngest member BTS, has reacted after his solo single Seven topped Billboard Hot 100. Earlier this month, Jungkook released the music video of his song Seven, which featured him alongside actor Han So-hee. The song also featured rapper Latto.
Jungkook reaction to Billboard's announcement
Taking to Instagram on Monday evening, Billboard shared the chart and wrote, "The Hot 100 top 10 (chart dated July 29, 2023)." Taking to Weverse early on Tuesday, Jungkook, wrote as translated by Twitter user @BTStranslation_, "Let's go even higher."
Jungkook is second BTS member to earn this spot
With Seven, Jungkook became the second BTS member to debut at number one on Billboard Hot 100. A few months ago, BTS' Jimin topped the chart with his song Like Crazy. BTS is the only other Korean artist to top the Billboard Hot 100. Jungkook also topped the Billboard Global 200 Top 10 and Billboard Global (excluding US) Top 10 charts.
Jimin and RM's reaction
Celebrating Jungkook's achievement, BTS member Jimin shared a post on Instagram on Tuesday. Sharing Jungkook's poster, he added grinning squinting face, clapping hands sign, party popper and confetti ball emojis. He also added the hashtags – JK and Seven. BTS leader RM aka Kim Namjoon shared Jimin's post on his Instagram Stories but didn't caption it. He also added a photo of his leg with several mosquito bites. Sharing it he wrote, "Mogiboard hot100 no.1" Mogi in Korean means mosquito.
BTS official twitter account also shared this accolade
The official Twitter account of BTS also shared a post on Twitter. Reacting to Billboard Charts' tweet, it wrote, "Billboard #Hot100 No 1. Thank you very much to all the ARMYs around the world who loved Seven (feat. Latto) every day, Monday, Tuesday, Wednesday, Thursday, Friday, Saturday and Sunday. Seven (feat. Latto) debuted #1 on the HOT 100! We're always grateful for your love and support #BTSARMY #JungKook #JungKook_Seven." At the time of this report, the YouTube video of Seven shared by HYBE has 101 million views and 7.7 million likes.
Jungkook's thoughts about Seven
Recently, Jungkook also said about Seven, "The key is originally this (sings the first line). But I have to do a test, see if I can do it or not since I have a cold right now. I can't do falsetto very well right now." Jungkook also added, "Whenever I get a cold it gets harder for me to control my voice. There are some people that sing better when they get a cold. But why am I like this?" Talking about the song, Jungkook also added, "The song is good, isn't it? I knew the response would be good. I just trust my gut."
Disclaimer: Except for the headline and synopsis, this story has been taken from the HT News Service