Mira Kapoor shares her review of Margot Robbie and Ryan Gosling's Barbie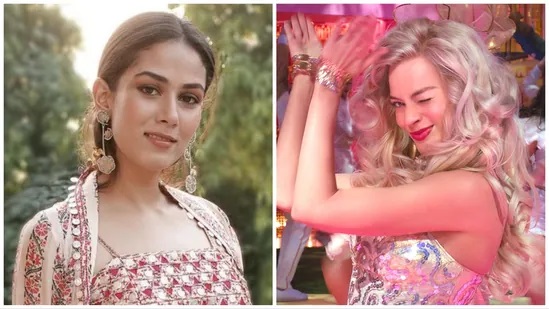 In regard to Greta Gerwig's Barbie, Mira Kapoor shares her perspective and points out a specific aspect in which the Hollywood film doesn't measure up to Bollywood.
Mira Kapoor has watched Greta Gerwig's Barbie starring Margot Robbie and Ryan Gosling. Mira has now taken to Instagram Stories to share her opinion on the film.
Mira Rajput's review
On tuesday, Mira shared a picture from the theatre, which included a still of Margot Robbie and Ryan Gosling from the film Barbie. She wrote along with it, "Hollywood this, Hollywood that… Well Hollywood can't do song-and-dance like Bollywood can!" She was referring to a song and dance sequence from the film, picturised on most of the ensemble cast of Barbie. The song that played out during this scene was Dua Lipa's Dance The Night.
Barbie stars Margot Robbie as Barbie and Ryan Gosling as Ken, along with a cast that includes names like America Ferrera, Simu Liu, Dua Lipa, Emerald Fennell, Issa Rae, Kate McKinnon, Michael Cera and Will Ferrell. The film's premise read, "After being expelled from the utopian Barbie Land for being less-than-perfect dolls, Barbie and Ken go on a journey of self-discovery to the real world."
The simultaneous release of Barbie and Christopher Nolan's Oppenheimer became a global trend named Barbenheimer as both the movies continue to make records at the box office. In India, Oppenheimer has fared better than Barbie, although at the US box office, Barbie has outperformed than Oppenheimer.
More about Barbie
The Hindustan Times review of Barbie read, "Greta is also quite indulgent with the satirising, constantly reiterating how she's remodelling the Barbie myth. The humour, hence, lands only occasionally, even though one silently admires the shots fired with every line. But the tone, a mix of self-awareness and spelling everything out, remains consistent throughout."
It further adds, "In that, Greta Gerwig constructs a satire that's slightly indulgent, but also constantly clever and occasionally fun. She treats the script like it's her Barbie — all dolled up, yet catapulted via imagination to places where it's never gone before."
Meanwhile, Mira and Shahid Kapoor tied the knot in 2015. The couple have two children. Their first born is daughter Misha, whose name is a combination of their names. Later, they had a son, they named Zain Kapoor. They celebrated their 8th wedding anniversary on July 7 with sweet Instagram posts.
Disclaimer: Except for the headline and synopsis, this story has been taken from the HT News Service