Despite a previous rift, Selena Gomez sends a heartfelt birthday wish to Francia Raisa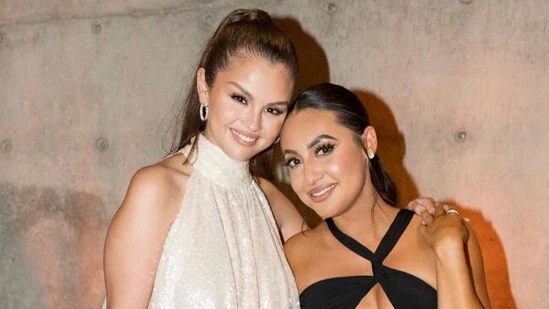 Selena Gomez posted a series of photos on Instagram with Francia Raisa, featuring pictures of them wearing matching outfits and posing together in front of a white wall.
Selena Gomez shared a sweet message for Francia Raisa on her 35th birthday. Selena took to Instagram to share a series of photos, including a photo wearing similar clothes, and a snap in front of a white wall.
"Happiest of birthdays to this special human being. No matter where life takes us, I love you," Selena captioned the carousel of photos.
Fans questioned the duo's friendship earlier this year after Selena made remarks in an interview with Rolling Stones about Taylor Swift being her "only friend" in the industry. Francia seemed to react negatively to Selena's comments at the time. Notably, Francia donated a kidney to Selena in 2017.
Francia appears to have not reacted to Selena's post yet, but has shared photos of herself dressed in a two-piece string bikini in front of a "Happy Birthday" balloon banner on Instagram. "If I'm not in a bikini on my birthday then it's not my birthday," she captioned the post.
Selena Gomez's friendship with Taylor Swift
Selena spoke up about her fight to find her voice within the industry in an interview with Rolling Stone, saying, "I never fit in with a cool group of girls that were celebrities. My only friend in the industry really is Taylor [Swift], so I remember feeling like I didn't belong. I felt the presence of everyone around me living full lives. I had this position, and I was really happy, but…was I? Do these materialistic things make me happy?"
Later, E! News used the first half of the quote in an Instagram post celebrating Selena and Taylor's friendship, where Francia commented, "Interesting." Selena later seemingly responded to this on a TikTok, writing, "Sorry I didn't mention every person I know."
When Francia donated kidney to Selena
Selena said during an episode of Apple TV+'s documentary series 'Dear…' in March that she is "in debt" to Francia, and called Francia her "best friend." "My best friend, Her name is Francia," she said. Of her illness and Francia's kidney donation, Selena said, "And within three days, she went to get tested, and she was a match. And it was one of those moments where I felt watched over. I know I was so, so, so lucky."
"I understand that that doesn't happen for a lot of people, and I know the outcome of some of those situations and how serious they are, so I do not take it lightly that it's happened to me that way," she added.
Disclaimer: Except for the headline and synopsis, this story has been taken from the HT News Service