Swastika Mukherjee reminisces about checking Aishwarya Rai's jeans on the sets of Chokher Bali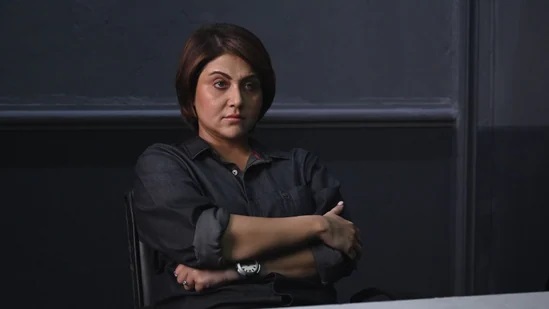 Swastika Mukherjee is ready to take the lead in the upcoming web series, Nikhoj. Prior to its release, she sat down for an interview with Hindustan Times.
Actor Swastika Mukherjee is torn between being a distraught mother and a Deputy Commissioner of Police (DCP) as her daughter goes missing in her upcoming Hoichoi series Nikhoj. It also stars Tota Roy Choudhury. As the trailer of Nikhoj went live, Swastika opened up about her character during a talk with Hindustan Times.
Nikhoj stars you in a strong character, like many of your projects. How do you pick these roles?
Swastika Mukherjee: I don't do roles which aren't strong and I dig my own grave (laughs). I always try to do something I have not done before this is how you see me playing a cop for the first time in Nikhoj. I am as CDP lalbazar Brinda Basu.
This role is especially challenging because I am playing a single mother. I had to maintain a balance between being a mother and a cop. I kept asking my director if my mother part was becoming overwhelming. Women naturally as mothers, tend to think by our heart; our mother mode is always on.
Isn't it easier for you because you are a mother too…
Swastika Mukherjee: Yes, that's why I had to focus on what comes to me naturally and doesn't become overpower the role. I am also a police person. That balancing act was very important. I just hope I have done it right.
How did you prepare for the role?
Swastika Mukherjee: I never had to prepare for playing a mother. I have completed 23 years in the industry. At the begining of my career, I played a mother to a 10-year-old at 21. My focus has always been performance. I played a 60-year-old at 31. I have experimented with everything. So, things like 'I will not play a mother or an aunt' was never really a concern.
How was it to reunite with Tota after years?
Swastika Mukherjee: I last worked with him in 2006. He has evolved as an actor, as it should be but he looks the same. His physique is the same, it's so annoying (laughs). I asked him on the sets how do you look the same.
Did he share his secret?
Swastika Mukherjee: He just laughs, which is worse. We all have aged and it shows. I am like 'What are you eating, drinking doing' and he will just laugh. He plays a suspect in the series. We shared a lot of heated arguments.
Nikhoj features you using the F-word among many other cuss words. A lot of celebs talk about censorship on OTT platforms. Are you in favour?
Swastika Mukherjee: I am not in favour. Let me use the word. You should allow what is coming naturally. Not just the F-word it can be anything, even a love-making scene between two adults, you can show it the way it is supposed to be. For how long you can fake a kiss or flowers? Let the people behave in real life. The F-word really helped me to control my anger in the scenes. I told my director either I use this word or you let me slap someone. He said he will let me beat up people in the second season.
While you gained popularity with Mastan, Chokher Bali had already set you in a different league. Do you recall memories?
Swastika Mukherjee: Yes, I wore such nice clothes and decked up in jewellery. It was my second trip to Benaras and we stayed in a 5-star. Nowadays with so much of a budget crunch, actors just go and shoot for their number of days and come back. 23 years back, we used to go and stay there for a longer period of time. I saw the process of Rituparno Ghosh's work; life-changing experience.
Swastika Mukherjee: Yes, she was there. I remember I had gone (to her) and checked her jeans.
But, why?
Swastika Mukherjee: To see the size of her jeans because I couldn't believe you can actually be that thin and wear adult clothes. I realised my waist was just 2 inches bigger than hers. I was like 'It's fine. I can reach there'. It was my goal to have a waist like that. It's interesting how you can find motivation from random spaces. I came back home and told my mom that my waist needs to be 26 inch. I would have to do everything in my power to get it.
Do you care about the 26 inch waist now?
Swastika Mukherjee: Absolutely F no. I was in my early 20s. My aspirations were different. At that age, you are bothered about your body, how you look, what your size is or what kind of clothes you wear. After 40 the F word hangs on you like anything.
Disclaimer: Except for the headline and synopsis, this story has been taken from the HT News Service