Angelina Jolie adds a concealed tattoo to her middle fingers, shrouding it in secrecy and prompting fans to ponder its hidden significance.
Angelina Jolie has a new tattoo on her middle fingers, but she's keeping it a secret for now.
The "Original Sin" actress got inked by Mr. K, a famous tattoo artist who works at Bang Bang, a popular tattoo shop in New York City that caters to celebrities.
Mr. K posted a photo on Instagram on Tuesday, showing Jolie's hands with the new tattoo blurred out.
He tagged the "Maleficent" star and wrote, "Still can't believe that I actually grabbed her hand and tattooed her," before asking his followers to "Guess what she got on her palm?"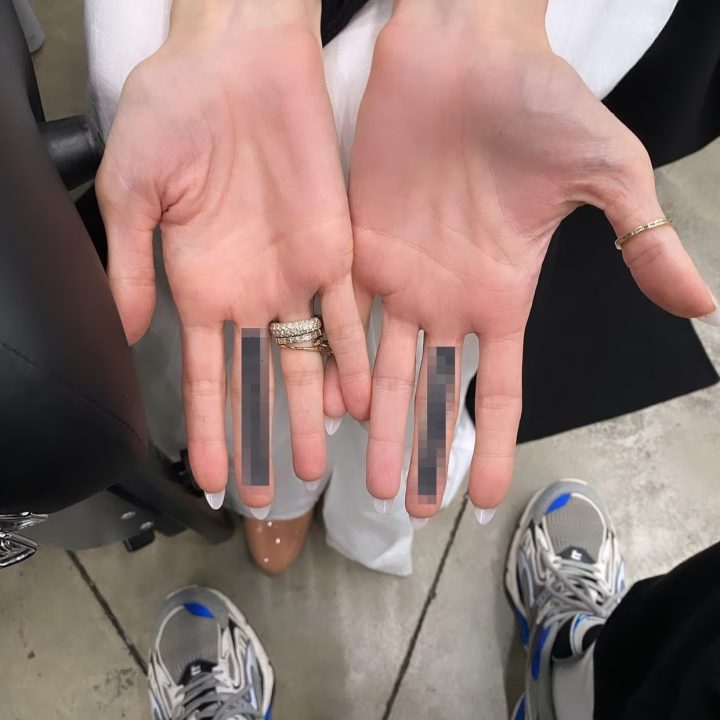 Netizen's reaction to the post
The post sparked a lot of speculation among the fans, who tried to guess what the hidden message could be.
Many of them joked that it could be "F**k. Brad.", referring to her ex-husband, Brad Pitt, whom she divorced back in 2016 after a decade-long relationship and a two-year marriage.
The former couple has been involved in a bitter legal dispute over their children and their shared winery. Other fans suggested that the tattoo could be something related to her kids, her spirituality, or a "warning label for prospective suitors".
Some eager fans also expressed their admiration for Jolie's beauty and said they would never wash their hands again if they touched hers.
Jolie has gotten many tattoos in the past
This is not the first time that Jolie has gotten inked, as the 48-year-old humanitarian has many tattoos that have personal meanings for her. She has a large backpiece that honors her six children and her charitable work, as well as several other tattoos that pay tribute to her ex-lovers.
She once had the name of her former husband, Billy-Bob Thorton, tattooed on her arm, but she removed it after they split up. She also vowed not to get another man's name on her body again, but she broke that promise when she and Pitt got matching Buddhist tattoos with the same ink before their breakup.
Pitt also has several tattoos that are related to Jolie, such as an "A" and the initials of their children on his forearm, Jolie's birthday in Khmer on his lower abdomen, and some doodles from Jolie's imagination. They both have a quote by poet Rumi that says, "There exists a field, beyond all notions of right and wrong. I will meet you there."
Probably Jolie's new tattoo is another meaningful statement … or maybe it's a jab at her ex.
Disclaimer: Except the headline and synopsis, this story has been taken from the HT News Service.