Despite A Star-Studded Cast Including Varalaxmi Sarathkumar, Sathyaraj, and Rao Ramesh, the Script Falls Short
Synopsis
Amrutha (Varalaxmi Sarathkumar), an investigative journalist, faces a distressing situation when her father, Kaalidas (Satya Raj), an archaeologist, mysteriously disappears after an excavation. Both the archaeology and police departments suspect him of fleeing with valuable artifacts. The media tarnishes Kaalidas' reputation as a traitor, severely impacting his wife Tulsi's health.
Determined to uncover the truth behind her father's vanishing, Amrutha embarks on a quest. She discovers that Kaalidas had ventured to an ancient mansion before his disappearance. Despite warnings from everyone, indicating no return for those who visited the mansion, Amrutha decides to explore it herself. What secrets lie within this eerie estate? What fate befell her father? Will Amrutha solve the enigmatic puzzle? This forms the crux of the series.
Review
Mansion 24 seems to draw heavily from the Korean horror anthology film 'The Grotesque Mansion' (괴기맨숀), replicating many scenes from it, albeit not in every episode. However, unlike its Korean inspiration, the Indian series lacks the captivating thrills and gripping storytelling needed to hold viewers' interest. Instead of building suspense and a compelling narrative, the show relies heavily on jump scares and repetitive horror clichés. This formulaic approach hinders the series from delivering genuine intrigue or genuine spine-tingling moments.
Director Ohmkar deserves credit for initially establishing a compelling emotional groundwork, effectively engaging the audience in rooting for Amrutha's success. Through the interwoven mini-stories, Ohmkar attempts to touch upon societal issues, delving into the ghosts that reside within us.
However, the main issue lies within the weak script of these mini-stories. The characters are thinly developed, leaving the viewers disconnected and less enthralled by these narratives than anticipated.
Despite this, the segment featuring Nandu and Bindu Madhavi stands out. Nandu portrays a chillingly ruthless conman, striking the right balance of fear-inducing charisma, leaving viewers apprehensive whenever he appears on screen. Bindu Madhavi brings an emotional depth to her character, a woman seeking retribution against Nandu, adding weight and sentiment to the storyline.
As the series unfolds, it drifts further away from Kalidas' core narrative, rendering any attempt to return to the main plot futile. The climax disappoints, failing to deliver an impactful conclusion, and even an unexpected twist can't salvage this scattered storyline. Surprisingly, there's a dearth of scares; moments in Bahubali might have induced more fear. On a lighter note, the appalling CGI and overly manipulated visuals give the show an almost childish appearance.
This anthology falls short as it fails to offer even fleeting glimpses of truth within its numerous subplots. Although Amruta has a clear objective, listening to the guard's anecdotes doesn't contribute to her progress, leaving little reason for the audience to invest in them. Ultimately, the show's overall narrative lacks significance, and one could understand Kalidas' storyline by simply watching the first and last episodes.
Despite attempts to evoke fear through sound design and cinematography, the show comes across as more garish than genuinely spine-chilling. Even classic series like Aahat or Shh! Koi Hain managed to deliver episodes that induced a sense of eeriness. In all honesty, it's better to avoid watching this series, even if you're in need of something to watch.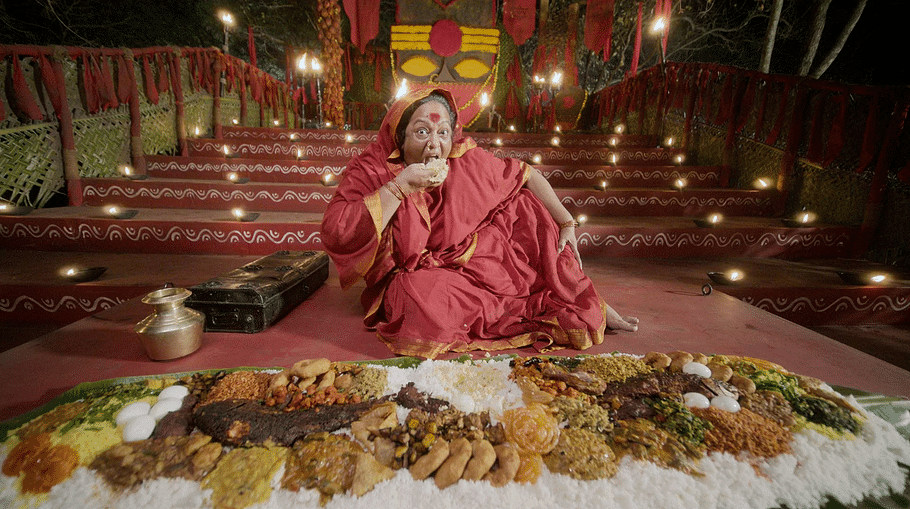 As October arrives, the season for thrills and chills, one would anticipate something fresh and intriguing. Unfortunately, what we're handed is a subpar show that attempts to overcompensate with excessive attempts at superficial enhancements. The horror genre has been steadily gaining traction, moving toward the mainstream and offering a creative platform for impactful storytelling. However, shows like Mansion 24 seem to regress us back several decades, lacking the depth and resonance often found in contemporary horror narratives.
The sociological messages conveyed in the series don't hit the mark; instead, they come off as dull and repetitive. Even the emotionally charged segments feel more like an afterthought to a narrative that struggles to stand on its own. To add to the frustration, the series concludes with the beginnings of a new plot, setting the stage for a potential new season. This not only feels unnecessary but also devalues the entirety of the current season, rendering it a complete waste of time.
Verdict
Overall, Mansion 24 emerges as a horror-thriller heavily reliant on standard horror conventions. Although a few sub-plots manage to captivate, the majority lack a significant impact. The main storyline suffers from poor writing, providing little room for the actors to shine. Predictability overshadows the main twist, and the show culminates in a rather predictable fashion.
Despite these shortcomings, Mansion 24 finds solace in its exceptional technical aspects, notably in its commendable sound design, visually rich scenes, and a compelling background score. However, the collective experience falls short of delivering the expected satisfaction.
Official Trailer