Swara Bhasker wore her mother's saree and jewellery and danced to dhol beats with Fahad Ahmad as they registered their marriage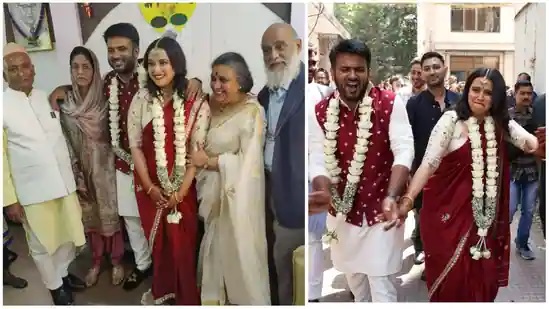 Swara Bhasker posted many photos with Fahad Ahmad, their families, and peers as they celebrated their wedding on Thursday.
Swara Bhasker has shared more pictures and videos with Samajwadi Party leader Fahad Ahmad as they celebrated their union after registering their marriage at a court. The actor revealed that she wore her mom's saree and jewellery for the occasion. She also hailed the Special Marriage Act as shared celebratory pictures of her and Fahad from the court.
Swara's Bhasker's social media post
On Friday morning, Swara shared a group picture featuring her, Fahad and their parents in one frame. She also shared solo pictures of her look for the day and those of her and Fahad dancing to dhol beats outside the court. She wrote along with them on Twitter, "So blessed to be supported and cheered by the love of family and friends like family! Wore my mother's sari & her jewellery made @FahadZirarAhmad wear colour 🙂 and we registered under the #SpecialMarriageAct. Now to prep for shehnaii-wala shaadi. @theUdayB."
Sharing more pictures of them registering their marriage at the court, she further wrote, "Three cheers for the #SpecialMarriageAct (despite notice period etc.) At least it exists & gives love a chance… The right to love, the right to choose your life partner, the right to marry, the right to agency should not be a privilege. @FahadZirarAhmad."
Swara's Instagram stories update
Taking to her Instagram Stories, Swara also gave a detailed look at her mehendi which had Fahad's name in it. Sharing a solo picture of herself, she wrote, "Twas was a big day. We kept it under wraps for some lunch months and trust me it was the hardest thing to do for an over sharer like me".
Swara & Fahad to celebrate wedding in March
Swara and Fahad will celebrate their wedding in March. The two had met during a rally and Swara had even called him a 'bhai (brother)' in an old tweet. The actor announced her wedding plans on Thursday as she shared a video featuring them together and wrote, "Sometimes you search far & wide for something that was right next to you all along. We were looking for love, but we found friendship first. And then we found each other! Welcome to my heart @FahadZirarAhmad It's chaotic but it's yours!"
Disclaimer: Except the headline and synopsis, this story has been taken from the HT News Service.