SEVENTEEN, a pop sensation, tops the charts with their tenth mini-album, "FML," and delights the audience with two title tracks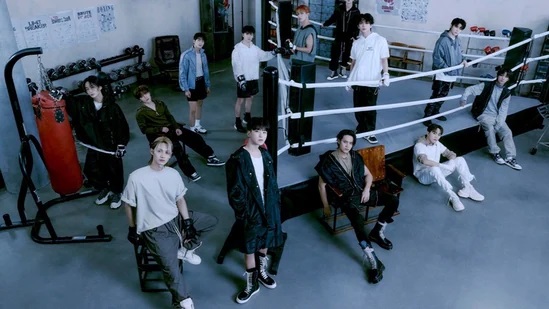 'FML', the tenth mini-album from K-Pop sensations SEVENTEEN, has been released.
SEVENTEEN, the K-pop sensation, has once again proven their unrivaled status by sweeping domestic and international music charts with their tenth mini-album, FML. The group's achievements have been nothing short of remarkable, having become the only artist to exceed three million copies sold on the first day of the album's release worldwide. In addition, they set a new record for the highest Initial Chodong sales volume of a K-pop album, with 4,550,214 copies sold in the first week.
The album soared on the top on Japan's Oricon's weekly chart
The album has also been a huge success in Japan, with SEVENTEEN ranking first on Oricon's weekly album chart for the aggregation period of April 24-30. Their success did not stop there, as FML took first place on Billboard Japan's "Artist 100," "Hot Album," "Downloaded Album," and "Top Album Sales" charts, respectively.
The album features double title tracks
What makes this album even more special is that it is the first album with a double title song by SEVENTEEN after its debut. The music video for "F*ck My Life" showcased everyone gathering and leaving somewhere to find true happiness in a world full of misfortune. In contrast, the music video for "Super" showcased an impressive mega-crew performance, displaying the group's different charms.
After the release of the sound source, "Super" not only topped the Melon and Bugs real-time charts, which are major music sites in Korea but also topped the iTunes "Top Song" chart in a total of 36 countries/regions, including Singapore, the Philippines, Brazil, and India. It stood out on the global charts.
FML has bought joy to the fans globally
SEVENTEEN has proven that their success is not limited to Korea, and they continue to achieve new milestones. The group's tenth mini-album, FML, has delivered messages of comfort and hope, bringing joy to their fans worldwide.
Disclaimer: Except the headline and synopsis, this story has been taken from the HT News Service