Halsey and Suga's collaboration in the new music video "Lilith" brings captivating and dark energy, leaving fans in awe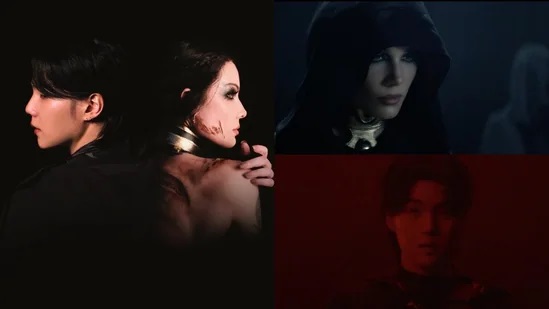 Halsey and Suga's music video "Lilith" was released on Monday as a promotional video for the video game Diablo IV.
Singer Halsey's revamped version of Lilith has been released and it features BTS singer Suga. The song marks Suga and Halsey's third collaboration, after Boy With Luv and Suga's track Interlude. The new version of Lilith is for the video game Diablo IV and it features the singers channelling their dark energies.
Halsey, SUGA – Lilith (Diablo IV Anthem)
The music video sets the mood of the song as dark and mysterious. In the video, Halsey appears in the role of Blessed Mother Lilith from the Diablo IV video game. She wears a black robe and sports a gothic look. While she kickstarts the song strong, Suga joins her midway via a red haze. He starts singing in English.
Lilith is the popular track from Halsey's album, If I Can't Have Love I Want Power. The music video is directed by Henry Hobson. It has been reportedly shot inside Chapelle des Jésuites (Jesuits' Chapel) in Cambrai, France. Going by the video, the ceiling of the Chapel was covered with impressive art murals and paintings, inspired by the game. The music video was released on Monday, in collaboration with Blizzard Entertainment's Diablo IV.
Fan's reaction to the collaboration
Reacting to the video, fans want to see more collaborations between Suga and Halsey. One of them commented, "These two really never disappoint us. Like seriously how can they always give us bangers? I'm speechless." "I don't know the game nor did I know the original song by Halsey but this tune is a bop and Halsey/Suga vibe well together. Love how their voices fit perfectly and hearing Suga sing still amazes me after all this time. Definitely going on my playlist and streaming the song. Thank you Halsey & Suga," added another one. One more said, "Their voices in sync gave me thrills! Their Collab never disappoints."
Sharing the video, Halsey took to her Instagram and posted the link. She tagged Suga and wrote in the caption, "Collabed with @agustd of @bts.bighitofficial on a reimagined version of "Lilith" for the #DiabloIV anthem and it goes incredibly hardâ€æ @PlayDiablo we both grew up playing the games and I've always wanted to do a concept with SUGA with this type of dark mythology, so it was a no brainer tbh. Very sick and out now, check it out!"
Disclaimer: Except the headline and synopsis, this story has been taken from the HT News Service