SAG-AFTRA strike haunts Hollywood's first post-strike event: Haunted Mansion Premiere starless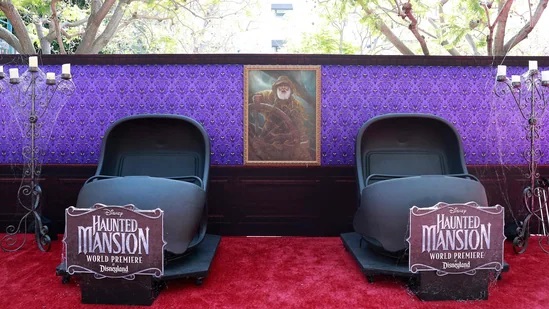 SAG-AFTRA strike leaves Disney's Haunted Mansion premiere starless at Disneyland, prompting theme park characters to fill the void as actors picket.
Disney's highly anticipated Haunted Mansion premiere faced unexpected twists and turns on Saturday night as the red carpet became a ghost town after the stars were forced to bow out due to the ongoing SAG-AFTRA strike. Despite the absence of A-list celebrities like Tiffany Haddish, LaKeith Stanfield, and Jamie Lee Curtis, the show must go on at the magical kingdom.
Disney proceeded with premiere despite the strike
As the stars took to the picket lines, Disney made a bold decision to proceed with the premiere, improvising with its iconic theme park characters. Mickey and Minnie Mouse, Maleficent, Snow White's Evil Queen, and even the wickedly glamorous Cruella stepped up to fill the void, delighting fans and posing for photos on the eerie red carpet in front of the Haunted Mansion ride.
The event took an unexpected turn as influencers and guests were treated to exclusive access to the spine-tingling Haunted Mansion attraction. Producers and director Justin Simien joined the event later, taking group photos and sharing their thoughts with the press.
Simien had mixed emotions about the situation
Simien expressed his mixed emotions about the situation, stating, "I'm so proud of this cast and the script's writer, Katie Dippold. It's sad that they couldn't be here, but I support their decision. I wanted to be here to represent them." He also emphasized the importance of the AI issues raised in SAG-AFTRA's negotiations, emphasizing the need to address them.
Following the unique red carpet experience, guests moved to California Adventure's Hyperion Theater for a special screening. Simien took the stage and paid tribute to his collaborators and Disney executives while acknowledging the industry's current challenges.
Amidst the strike turmoil, SAG-AFTRA criticized the Alliance of Motion Picture and Television Producers for an "insulting and disrespectful" offer, condemning the lavish spending on CEOs while neglecting fair compensation for actors. SAG-AFTRA President Fran Drescher voiced her disappointment, firmly stating that the studios stand on the wrong side of history.
Disclaimer: Except the headline and synopsis, this story has been taken from the HT News Service