"Bloody Daddy", the action-packed thriller, showcases Shahid Kapoor's stellar performance. With a captivating screen presence and impressive action sequences, Kapoor dominates the film. The engaging first-hour, well-choreographed set pieces, and well-arranged sequences make it an entertaining watch for fans of the genre.
Synopsis
The story revolves around Sumair (Shahid Kapoor), an officer of the Narcotics Control Bureau (NCB), who, along with his partner Jaggi (Zeishan Quadri), intercepts a car carrying a massive stash of cocaine worth crores. However, trouble ensues when the drugs turn out to belong to the menacing Sikander (Ronit Roy Bose), who retaliates by kidnapping Sumair's son, Atharv (Saartaj Kakkar). Sumair finds himself in a race against time to save his son, leading to high-stakes encounters and nail-biting action.
Review
Bloody Daddy, the action-packed thriller starring Shahid Kapoor, is currently streaming on Jio Cinema. Directed by Ali Abbas Zafar, known for his blockbusters, the film combines a captivating story, intense action sequences, and a powerhouse performance by Kapoor. Despite its flaws, Bloody Daddy engages audiences with its adrenaline-pumping narrative in the first part.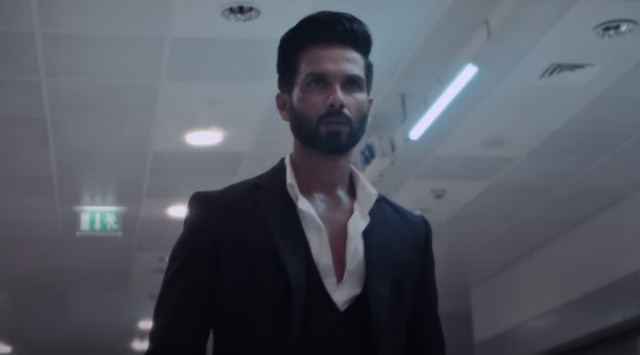 Kapoor shines as the heart and soul of Bloody Daddy, effortlessly transitioning between intense action and lighter comedic moments. His remarkable screen presence captivates the audience, complemented by Diana Penty's impactful role. The film starts strong, establishing the plot and characters effectively. Gripping moments abound in the first hour, with well-choreographed action sequences showcasing Kapoor's prowess. Notably, the intense showdown between Kapoor and Rajeev Khandelwal stands out.
However, Bloody Daddy falters in its second hour. The plot loses steam, resulting in a dip in engagement. While the climax action sequence is well-executed, it lacks the expected impact of the genre. The film's focus on action must include emotional depth, leaving potential untapped.
Technically, Julius Packiam's background score complements the film's mood, heightening tension makes it excel. Marcin Laskawiec's cinematography elevates the visual experience, capturing action sequences with finesse. The stunning production design immerses viewers in the world. Seamless editing maintains a brisk pace throughout.
Ali Abbas Zafar's direction showcases his ability to helm a high-octane thriller, though a more balanced approach would have benefited the latter part. Despite being a remake, Bloody Daddy offers an engaging and entertaining experience for those unfamiliar with the source material.
Verdict
Bloody Daddy is a thrilling action film showcasing Shahid Kapoor's talent and screen presence. While it may stumble in certain areas, the film's gripping narrative and Kapoor's standout performance make it a worthwhile once-watch. Stream it on Jio Cinema for an engaging cinematic experience.
Official Trailer :